Community Garden Promotes Food Security and Sustainability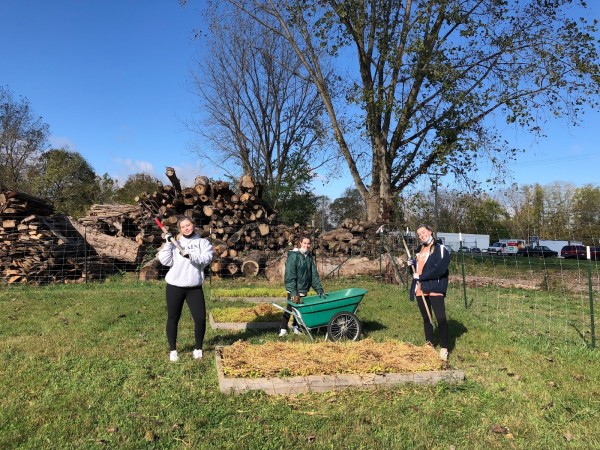 Every Wednesday, a group of Kenyon students heads down Gambier Street to volunteer at Community Roots, a local community garden serving the Knox County community. The garden is situated on the West side of Mount Vernon about five minutes from Main Street. When you arrive at the garden, you can see a semi-covered greenhouse area which houses gardening tools as well as covered hoop houses that grow micro-greens. These hoop houses are essentially covered in plastic and help to trap the heat, which allows them to expand their growing season and continue to cultivate produce in the more colder winter months. In the outdoor space, there are small raised beds filled with various different types of vegetables depending on the season.
The Community Garden aims at serving Knox County in a variety of ways, with an underpinning goal of increasing food security and promoting sustainability. Sydney Strite, the Americorps Vista Farm to School and Volunteer Coordinator, remarks that the community garden holds a variety of benefits. She says "it helps with mental health, food security, and offers space for all individuals to feel welcomed." One of the major ways that the organization is accomplishing this is through the Farm to School program, which is funded by the USDA, and through this grant they can bring food education and food access to the local Knox County schools. This program provides the students at the local schools with growing lights and raised beds, where they can learn how to grow their own food and understand sustainability more broadly. Right now, Community Roots is partnering with Twin Oak Elementary where they study soil science, plants, and grow their own produce including radishes and carrots.
Additionally, Community Roots offers volunteer opportunities for people who are currently on probation and working their way out of the court system. Sydney reflects that one of her favorite parts of the organization is that they can use their gardening space as a form of rehabilitation in addition to expanding environmental education and promoting food security. She "hope[s] that by creating a welcoming and judgment-free zone that people working themselves throughout the courts are able to gain a sense of community, belonging, and are less likely to be re-offended."
In order for these programs to be successful and for the various projects to continue, the garden relies heavily on volunteers. They have found success in building a volunteer base from local high schoolers seeking service hours as well as groups of Kenyon students. However, one of the biggest challenges that Sydney cites is maintaining this strong volunteer network, especially with Covid 19, which resulted in much of their workforce dwindling. In addition to this, they are working on trying to develop internship opportunities to help local young people, particularly college students, expand their knowledge and experience on working for a non profit organization, organizing volunteers, community outreach, and ultimately developing a greater understanding of food sustainability and food security. Sydney says that she is immensely grateful for the connection that Community Roots has with Kenyon and the Archon Society in helping to establish consistency with volunteers.
You can find Community Roots at the Mount Vernon farmers market on Saturday mornings in the main square selling their produce from May through October; you can also find them on social media @communityrootsohio. If you are interested in volunteering or getting involved you can email them at communityrootsvista@gmail.com.