Connecting Through Conversation & Movement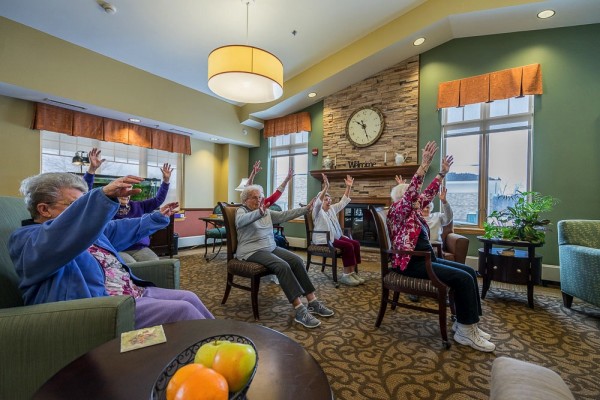 For Professor Kora Radella, movement is a way to build community. Before coming to teach at Kenyon, Radella spent many years working with elderly populations as a movement consultant and class instructor for people with a wide range of physical capabilities and limitations. Over the course of her nineteen years at Kenyon, Radella says she has missed being able to engage with elderly populations in her work. In spring of 2022, she found a way to bring that passion back into her life and the lives of her students.
Last spring's Choreography One class spent six weeks in close collaboration with elderly residents of the Ohio Eastern Star Home, interviewing them about their lives and finding ways of using physical movement to tell their stories. In many cases, the movement aspect was minimal—with the project centered instead on touch, conversation, or simply shared physical presence.
Radella explains her students' objectives: "They were looking at really small movements, like some people could do a lot and some people were just maybe gesturing, and they were dealing much more with life story or what really intrigued the person they were talking with." Student choreographers worked with the residents to help them express themselves through movement, but ultimately the project was more focused on conversation and interpersonal connection. Students filmed interactions with the residents that they found impactful and used the clips to create short films to tell a piece of each resident's life story.
Roisin (Rosie) O'Byrne, a sophomore dance major, spoke of the emotional resonance of her experience working with an elderly resident. Participating in this project as a first year student at Kenyon lent O'Byrne a unique perspective of Kenyon's geographical and cultural placement in relation to the communities of Mount Vernon and Central Ohio.
"It informed me about a way of life, like what it meant to grow up in a rural area. Hearing the story of this woman's life…on a farm and her father as a farmer, hearing about how she worked as a kid and she stayed in this area for her whole life... about her relationship to her church and her friends," noted O'Byrne. "I feel like even the residents of Gambier are very mysterious and we don't really see them. To be told by this woman what her life was like filled in a missing piece because I only know this area as a college student. It gave me a much clearer picture about this area."
Marci Thomas, Director of Life Enrichment at the Ohio Eastern Star Home since 2015, works to ensure the reciprocal nature of the student-resident relationship. "A lot of them look at it as like their grandchildren and they love to see students succeed," she explains. "For them to be able to share their knowledge and have someone that's so interested in hearing their stories gives the residents a purpose. And I think for the student it builds a relationship, or brings that older adult into their life where a lot of the students may not live around here or have family, so that gives them the comfort and shows them [how] our world now is so different from what it was with those residents 90 years ago."
For students, using movement and conversation to get to know members of the Knox County community outside of Kenyon helped them feel grounded here. "We all have homes, but for this not to be mine and to come in, I needed that kind of clarity as to 'this is what life here is like', or 'this is one version of what a life here has been like'," O'Byrne reflected.