From Electronics Recycling to Computers for Kids: Mike Erow's Story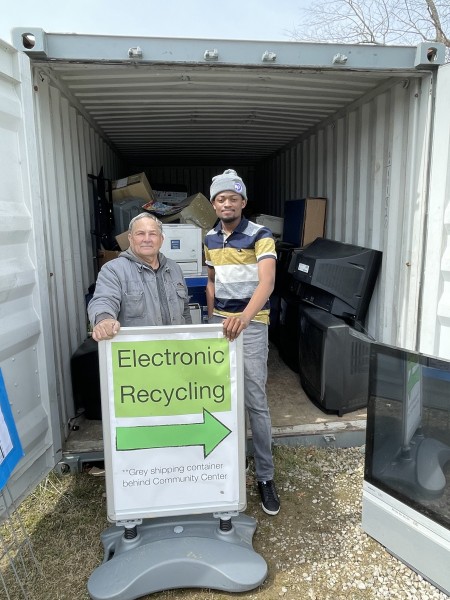 Written by Jess Dannery and Hadley Seymour
Mike Erow is often called the "computer angel" by children throughout central Ohio. As the founder of Computers for Kids, Mike has rebuilt and distributed over 330 computers to children with developmental disabilities or chronic illness in Knox and Licking counties since 2007. In 2007, Mike was thinking about creative ways to give back to the community and knew he wanted to give back to local children. Then, Mike's daughter gave him the idea to use his technological skills he developed over his career as an electrician to refurbish computers and give them to kids in need. Mike is a lifelong resident of Knox county, so he deeply cares about giving back to the local community.
The first Saturday of every month, Mike helps Kenyon's Office of Green Initiatives with their Electronic Recycling Program. During electronic recycling, Mike works with Kenyon student interns at the Office of Green Initiatives to help community members recycle their used electronics which they drop off near the Gambier Community Center. Mike is able to refurbish laptops collected from the recycling program which are then given to low-income children suffering from chronic illnesses. In March 2022, Mike was able to collect 32 computers from Kenyon's Electronic Recycling Program to refurbish in the future. One of the interns at The Office of Green Initiatives, Hadley Seymour, who works regularly with Mike at electronic recycling says that: "Mike's passion is helping other people and having fun along the way. I have great memories with Mike doing electronic recycling and I am so glad that thanks to our partnership with Computers for Kids, we are able to offer a service in the community that also gives back to children in need thanks to Mike's hard work".
Mike is inspired by the kids' excitement when he is able to drop off their computers. He says that "I've never seen a kid as excited as when they get a laptop". The special moment of giving a laptop to a child in need inspires Mike to continue with Computers for Kids for over fifteen years. The answer to how Mike has continued for such a long time is simple, he says that "I love doing it". Seeing children's faces "light up" when they receive a computer brings joy to both the child and Mike's life as well.
Mike's generosity and passion for helping children access technology is a gift to the community and generations of children. You can learn more about Computers for Kids and support Mike Erow's work by following Computers for Kids on Facebook, donating on Paypal or reaching out to Mike at Mikeerow@hotmail.com.