How Kenyon Worked for Us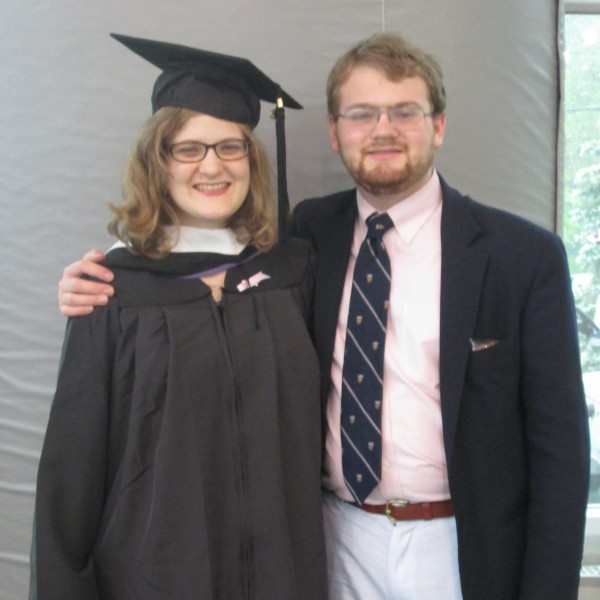 Thinking back six years ago, perhaps my husband and I shouldn't have been surprised when our first child, Lydia, and then two years later, her brother, Nathaniel, chose Kenyon (both pictured at right at Lydia's 2015 graduation). After all, we had sung the praises of a liberal arts education for its exposure to a variety of disciplines and its emphasis on developing critical thinking skills, and they knew how much I had loved my alma mater, Carleton. But each of them had been, in turn, quite certain they did not want to go to a small college in a small town.
We live in a village of fewer than a thousand souls, 14 miles south of Syracuse, New York, and Lydia and Nathaniel went to a public high school with approximately 70 kids they'd known since kindergarten. They are both serious students and in school were on the not-totally-mainstream side — since fourth grade, Lydia read history books for fun, and in high school, Nathaniel started an investment club and wore a necktie. They were ready to move on to much larger pastures — somewhere with big libraries, big museums and big companies where you might find summer internships. We told them: Fine, you get in, you get enough financial aid, you can go wherever you want. We just didn't know those wider pastures would be found at a small college in a small town.
Lydia visited a number of schools, all on the East Coast except for Kenyon, and her choice seemed to come down to two reputable mid-sized universities, both in very large cities. She had applied to Kenyon because the son of a close friend was graduating that year and loved it. As Lydia was quite sure she didn't want to go to a small college in a small town, her first glimpse of Kenyon (and Nathaniel's, too) was not in the fall as a prospective student or even during an admitted students weekend, but earlier in the spring when our whole family drove out for our young friend's senior project as a music major.
The young man gave a talk about a composer I'd never heard of and directed a group of fellow music students in the performance of a piece. The recital hall in Storer Hall was full and there was a buzz of excitement, even before the talk and performance began. A panel of serious music department judges sat in the back. It felt like the whole department and the young man's entire friend group had turned out for this event.
That first Kenyon weekend was invigorating and fun; in addition to visiting with our friends and attending the concert, we went on a campus tour with a smart and funny tour guide, listened to a great lecture, worked out at the Kenyon Athletic Center, went for walks, and ate 75-cent Market Dogs and cherry fry pies from the Village Market. Still, I hadn't realized Lydia was experiencing internal turmoil until we were halfway between Gambier and Central New York, when she leaned into the front seat and said, "Would I be crazy to choose Kenyon?"
My husband and I said evenly that she wouldn't be crazy at all and that we would be happy with whichever school she chose. But I knew his heart and mine soared when we thought of her at Kenyon. The campus had seemed so lively, so serious and so homey all at the same time. As Lydia said, "I can always live in New York or Boston later on. I think Kenyon would be a really good place to be in college, to learn. Plus, it just feels good."
Two years later, we were even more certain her younger brother would want to leave his small-town roots for the bright lights. After all, how many people wear neckties at Kenyon? (It turns out more than a few.) But he chose Kenyon, too, saying no to two great mid-sized urban universities and a couple of other small colleges that offered the same financial aid. He said he knew Kenyon was highly regarded and its reputation was important to him, but he also said he liked the size. He had loved visiting his sister there. He said that he wanted to work hard and be challenged, and he wanted to join clubs that weren't too large to need him. It turned out that he also wanted to join a fraternity, but we didn't know that until he came home for winter break his first year telling us he would be pledging. (See my blog post "It's All Greek to Kenyon": Nathaniel's joining Delta Tau Delta was a surprise to us and a boon for him.)
By the end of Orientation, Lydia had written a resume and applied for, and gotten, a job working in the archives at Olin Library — a position she kept all four years that led to two summer jobs. She also worked in the Writing Center and volunteered with the Kenyon Democrats. At Kenyon she worked hard, studied at Oxford for a semester and graduated Phi Beta Kappa after completing an honors thesis in medieval history. History was what she'd always loved, and the way she'd been able to delve into her course material at Kenyon and discuss it with her favorite professors confirmed what she'd always known. Even though her wonderful advisor, Professor Jeff Bowman, has never minced words on the difficulties of launching an academic career, the support and individual attention she received from him and others continues even now that she is in graduate school.
Nathaniel's path at Kenyon has been different from his sister's in that the most important discoveries he has made have been finding new interests. As a first-year, he was hired to be an LBIS Helpline consultant, as a senior he started a job as an Admissions Office fellow, and for the past three years, he has worked on the campus weekly newspaper, The Collegian. Writing for and editing The Collegian, coupled with his interest in finance and his major in political science, qualified him for an internship with a Wall Street financial news source that he held for two summers in New York City. He learned of this internship by perusing listings and pursuing contacts he learned about at the Career Development Office. At this moment, he is busily firing off resumes to firms in New York and other cities; almost all are jobs he's learned of through Kenyon contacts. I'm not saying that any one Kenyon graduate is going to hand him a job; I wouldn't lie to you. But it is true that his own diligence coupled with the impressive connections maintained by the CDO (and the genuine helpfulness of those who staff that office) have produced real results.
Kenyon isn't perfect; naturally, it faces some of the same challenges faced by other colleges, both larger and smaller ones. We might have wished it had more racial and economic diversity among the student body; we might have wished it cost less. But I can't say that either of these issues or others would be different at other schools our kids might have chosen. Still, I think Kenyon is different from other colleges in some key ways: Its community is hopeful but realistic, supportive but challenging. It's an inspiring, invigorating place to call home for four years, and it has brought out the best in my own children. They have enjoyed Kenyon. They feel at home there. They have played and made friends, but it's easy to take your work seriously there because most other people are doing that, too. They worked hard at Kenyon, and Kenyon has worked for them.