On and Off Campus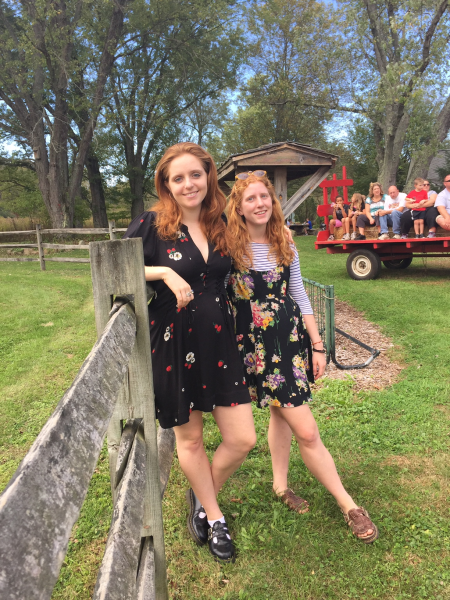 A confession. Over the past six years I have spent more than my fair share of time in Gambier. As the mother of a Kenyon graduate (Chace Beech '16) and a current sophomore (Ava-Rose Beech '21), I've flown from Los Angeles to Ohio, along with my husband, Stephen, at every possible opportunity. Plays, art shows, Family Weekend, any weekend … it's hard to keep us away!
Just as our daughters fell for Kenyon, we did, too, and we've been lucky enough to make our own friends in Gambier, which means we haven't been entirely dependent on Chace and now Ava-Rose to entertain us! Usually, we are happy browsing the Bookstore, chatting over cappuccinos at Wiggin Street Coffee, admiring the latest exhibits at the Gund Gallery and attending concerts.
To be honest, we have grown so fond of Gambier, we are often reluctant to descend the Hill and re-enter the "real world." When we do, though, we are always delighted at our discoveries.
Here are my Family's Favorites — on and off campus.
IN GAMBIER
In the past, there have been complaints about the limited restaurant options in Gambier. But for my family, there is little that can compete with dinner (on the patio, weather permitting) at the Village Inn (the VI's veggie burgers, salads and soups are unbeatable). I'd also recommend an occasional romantic dinner in the atmospheric elegance of the Kenyon Inn (try their mushroom flatbread, followed by pan-seared salmon) or a nightcap in the Inn's sociable and cozy bar.
Students and visitors to Kenyon are currently excited about the new Green Vibes juice truck, which has been parked on Middle Path, featuring cold-pressed juices, avocado toast and superfood "energy balls."
Unwind and commune with nature at the Brown Family Environmental Center (BFEC). Set in 500 acres and dedicated to preserving natural diversity, this is a meditative and educational space – and a wonderful contrast to city life. At Family Weekend, the BFEC celebrates fall with a vibrant harvest festival, complete with traditional crafts, live music and autumnal treats (you can see Chace and Ava-Rose enjoying the festival in the photo above).
We also enjoy visiting the Kenyon Farm, just a 10-minute walk from campus, where Ava-Rose works part time. On 10 acres, there are sheep, goats, chickens and ducks, as well as diverse seasonal crops, such as spinach, Swiss chard, beets and carrots, and local flowers. Along with farm manager Ryan Hottle, the student farmers are happy to explain their rotational grazing system. They'll also show you around the Farm House, which is home to several students. A highlight: once a year, there's a celebratory roast; students prepare a meal for the whole Gambier community and everyone feasts on one of the farm's own pasture-raised goats or lambs — a properly authentic farm-to-table dinner!
OFF CAMPUS
As a transplanted LA woman (originally from Britain), with a propensity for super-healthy West Coast food, there's a lot about Ohio food, to be honest, that isn't really my cup of tea (or glass of green juice), but things are looking up. In Mount Vernon, the new, family-run North Main Café is worth a visit … great omelets, sandwiches and coffee, plus Amish specialties. I'm also looking forward to eating at Harvest Market and Café, which is about to open in Mount Vernon and has been testing its menu with a food truck stationed on campus. With a focus on locally grown ingredients, students have been enjoying options such as chickpea curry or seared brown butter spaetzle with sausage, peppers and onions. My daughter's favorite: quinoa and mushroom hash with a fried egg.
For a wickedly sinful brunch, I've developed a taste for Sunday Morning Decadence at Early Birds Breakfast in Saint Louisville. A firm Kenyon favorite, it's a 25-minute drive from campus. This is true Americana, fresh homemade food with an idiosyncratic twist, owned by sisters Sara and Elizabeth Ernest — both great, warm characters. Friendly and fun, I recommend the huevos rancheros and stuffed French toast. Well worth the calories.
It was our close friends Marilyn and Geoff Stokes, long-time Gambier residents (and, like me, originally Brits), who first took us to Ariel-Foundation Park in Mount Vernon. This surprising and oddly beautiful sprawling park on 250 acres fuses local Ohio industrial history with an ingenious vision. Artists have created a sculpture garden, repurposing glass and steel from the abandoned 19th-century Pittsburgh Plate Glass factory, which closed down in 1976. Rivers of recycled, blue crushed glass cascade down the hillsides, which are topped with fiery red sculptures fashioned from salvaged steel. The factory's 1951 smokestack has been turned into an observation tower – climb the steel, spiral staircase to the top and you're rewarded with breathtaking views.
"A town isn't a town without a bookstore" proclaimed British author Neil Gaiman, a sentiment echoed by Lois Hanson, manager of Paragraphs Bookstore in Mount Vernon. "We love books and we want to share our love of literature," she says. With over 11,000 titles, Paragraphs is highly curated and staffed by knowledgeable bookworms, unlike the ubiquitous chains and online stores. Hanson's current top choices: "Where the Crawdads Sing" by Delia Owens and "These Truths" by Jill Lepore.
And, for the book-obsessed looking for an all-day experience, The Book Loft in Columbus's German Village is housed in 32 interconnected rooms with a staggering half million titles. Mindboggling and historic (the buildings date back to pre-Civil War days and, in various incarnations, have housed a saloon and a nickelodeon theater), there's a patio filled with bargain books. Get a map of the store at reception or get lost in this literary Utopia!
In Columbus, aka the Biggest Small Town in America, there are dining options to rival any major city. Chace spent many happy evenings at Harvest Pizzeria, also in German Village. We all enjoy whiling away hours in the Short North arts district, a hip, ultra-cool neighborhood south of the Ohio State University campus, choc-full of antique shops, whimsical jewelry stores, boutiques, galleries and restaurants. We'll often eat at Northstar Café, where I am particularly partial to the Buddha Bowl (rice and veggies with peanut sauce).
And finally … dessert, which is always Jeni's Splendid Ice Creams. Owner Jeni Britton Bauer, who studied art history at Ohio State and used to make perfume and essential oils, was an artisan ice cream pioneer and has created a uniquely delicious brand. She now has "Scoop Shops" in 10 cities, but Jeni's is an Ohio institution and, for us, will always be synonymous with Kenyon. I've never been disappointed with any of Jeni's sublime flavors, from her Brown Butter Almond Brittle to her Goat Cheese with Red Cherries, but I always end up going back to my favorite — tangy Brambleberry Crisp.