Secrets of Family Weekends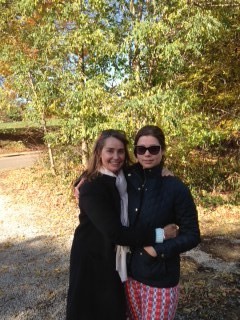 It was on a computer screen that we first experienced the rolling green Kenyon lawn. Now it's my daughter's front yard, at least until spring of 2015.
As the August of my daughter's freshman year approached, she thought she might concentrate on writing. But she was equally concentrated on her dorm room and its co-occupant.
When I left her in Gambier, on an overcast afternoon, she and her new roommate were debating if they should bunk their twin beds to create more space. It would be like stacking two giant Legos; one piece with a "Hello Kitty" comforter; the other, a more subdued Indian print. They were discussing who would get the top when I left. I secretly hoped my daughter would get the bottom; the top bunk is the worst deal ever for a variety of reasons.
A few long weeks after that came Family Weekend. That first one, especially, represents a big shift. I had envisioned cozy mother/daughter dinners, meeting her new friends, maybe sitting in on a class, or snuggling together under a blanket at the football game.
My daughter was more interested in her own new schedule and was happy to get rid of me each night.
So, in my rush to turn in on my second night there, I accidentally backed into and dented another car. In my own defense, it was pitch black and the street seemed to be backlit by a row of antique houses.
After the slight impact, which felt like a slap, my daughter shrank in the passenger seat. On a scale from 1-10, my newbie's embarrassment was a 10. I dashed into what was then Middle Ground (the coffee shop) and procured a paper plate on which to communicate. The following morning I connected with the owner, and we amicably worked it out.
When I left Kenyon that weekend, I felt a little dented myself.
The next day a friend had forwarded me an online article in the Wall Street Journal about Family Weekend at Kenyon College (of all places). Every scene this Kenyon Dad described seemed right out of a Norman Rockwell painting. Their trip began with a triumphant passage over the George Washington Bridge. Then there were fun games during the 10-hour car trip. He even described a family outing to K-mart where he helped his daughter pick out a Halloween costume. I went there too while my daughter hit a party.
In a funny twist, the author of the WSJ piece was none other than the fellow whose car I had bumped. Good thing I had left that paper plate or I may have ended up in his published account. What I understand better now is that his daughter was a seasoned senior — it's no wonder she rolled out the red carpet for her parents.
Earlier this fall it was Family Weekend again, and now my daughter is a graduating senior. We didn't catch a football game, but we sweated it out in the sauna. We ate with other friends' parents; we biked the Kokosing Gap Trail, collision-free.
My daughter went from struggling with bunk beds and academics to an honors program (and much better housing). An American studies major, she is busy taking voice lessons and creating a web series, and she even tried out for an improv group and survived the rejection.
After more than a few knocks, my rising senior seeks help when she needs it and gives it to others in her work as a peer counselor. She found she prefers club tennis to varsity and the dining hall, once again, to the Gambier Deli. (This is big because she was eating at the Deli so frequently, a Deli employee wrote me to say how much my daughter enjoyed the eggs and could I add some money to her house account.)
I loved my last Family Weekend at Kenyon; my daughter's only complaint was that we didn't tackle enough meaty topics at dinner. She has a voice, she is a feminist and she's not afraid to tell me I'm wrong.
The biggest change of all: she's ready to leave college…
As for me, come graduation, I'm looking forward to taking a seat on on that rolling green lawn.