Whose Weekend?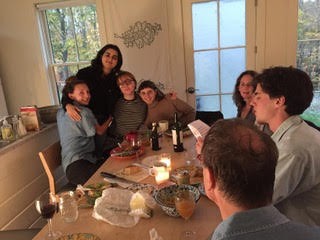 Note: Family Weekend takes place October 13-15. View the full schedule and a list of special events and programs.
There was no such thing as Family Weekend in England, where I was born, raised and educated. College was for students, not for parents (whose only function was sending food parcels full of Cadbury's chocolate and McVities biscuits — or some extra cash). Even if a mid-semester get-together had been the norm, I can't imagine that I would have relished the prospect of my mother, father and brother turning up from Manchester to hang around with me and my "super-cool-intellectual" friends in London. The last thing I wanted was the presence of potentially embarrassing relatives.
Luckily, my daughters (one Kenyon graduate and one first-year) do not feel the same way. Chace (Class of 2016) looked forward to my arrival for that first Family Weekend, partly I am sure because it meant the delivery of Trader Joe's snacks — plus luxuries she missed from home in Los Angeles. But I think she was also genuinely excited about showing me around the campus. Having failed to persuade Stephen (Chace's father) to fly to Ohio, I took my British friend, Sarah-Jane, along with me. Both of us loved the American Liberal Arts Experience, from strolls along Middle Path, crunching leaves underfoot — all vibrant fall colors and buttery sunshine — to invigorating chats over endless cappuccinos at Wiggin Street.
I returned to LA regaling Stephen with stories about the incredible atmosphere that permeated Gambier and the great community Chace had formed in just a couple of months. I think he rather regretted his decision to stay at home and, suffice to say, he's never missed another Weekend. Our October trip to Gambier became one of the highlights of the year. We watched our daughter and her friends perform in thought-provoking plays, attended soaring a cappella concerts, roared with laughter at the improv group, Fools On The Hill, cheered on her boyfriend in basketball games and sat in on engrossing literature and philosophy classes.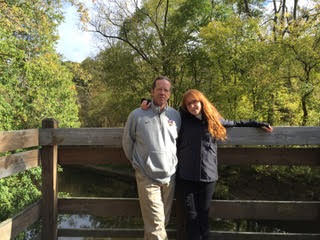 Chace and Stephen pose together during family weekend.
As Chace continued her education and cemented her relationships, our own experiences became richer, too. We've become close to her friends — and their parents — something we didn't anticipate. I remember one particular "cocktail party" in a cramped dorm, when it dawned on me that Kenyon had little in common with my own university experience. Several families were sitting around (on beds, pillows and rugs) deep in discussion about life, books, relationships and music, drinking wine out of plastic cups and eating peanuts out of a tin, with Neil Young playing in the background. Then, leaping ahead a couple of years, we would all cook together (photo above). There were multi-family dinners at North Campus Apartments (beautiful student houses in the woods), often orchestrated by one of Chace's pals, who happens to be a gourmet chef. (Our Family Weekends tend to revolve around food!) And what's really rewarding is that those inter-generational friendships forged in Gambier have extended beyond Ohio. We've stayed with Kenyon families in New York and they've visited us in California.
We've also become close to Gambier locals, which means that rather than booking into hotels, we stay with a couple in the community, at their lovely house, a stone's throw from the campus. Before launching into the day's Family Weekend activities, we eat breakfast in their bright dining room, watching the red cardinals and yellow finches hover around the feeder, occasionally glimpsing a family of wild turkeys making their way through the woods. That is the kind of thing that happens at Kenyon.
Ever since we bid our younger daughter, Ava-Rose, an emotional farewell after helping her to settle in this August, we have been excitedly anticipating Family Weekend 2017. Thankfully, she seems just as enthusiastic as Chace used to be about our upcoming visit to Gambier. Of course, this time it will be different. I imagine we'll be visiting the Kenyon Farm where Ava-Rose volunteers, and we'll get an entirely fresh perspective of the College.
Friends in the U.K. who hear me wax lyrical about our daughters' school and see me proudly sporting my Kenyon sweatshirt have asked with some justification whether I am secretly harboring a fantasy of becoming a student there myself, or sentimentally reliving my own university days vicariously through my children. Well, my daughter can rest assured that is not the case! As much as I love spending time on the Hill, in the midst of a sublimely picturesque campus, at the end of the weekend I will be happily heading back west, leaving Ava-Rose to enjoy college life. But it's definitely nice to know that there are more Family Weekends to come in the years ahead.