Moon Landings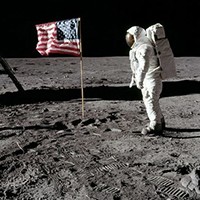 Parenting a child through the college search process is a bit like taking a journey to the moon—a terrifying passage through dark space with a suspenseful landing.
If you, as a parent, have been to college, you have a sense of the journey and confidence that you'll make a safe landing. If you haven't been to college, the journey can be even more fraught as you have no sense that the lunar vehicle will find its way to solid ground. You've spent 17 or 18 years raising a child, and you'll spend 18 months or so going through the college search. Funny how this latter task, the one taking only 18 months, will seem longer. Trust me: You will survive this process—with a little help from Mission Control.
This blog is designed to help you make that journey successfully alongside your child. We will have regular contributors (current and prospective Kenyon parents) as well as guests who will sweep in from time to time with insights and ideas. We hope it will help you make your journey—as the sometime pilot and occasional terrified passenger—more fun and ultimately more fulfilling.
I have parented two daughters through the college search process while sitting as Kenyon's dean. Both took me on wild rides with unexpected landings. Both chose colleges I never would have anticipated them choosing. I've taken off my spacesuit for the time being, but I still have the joy of observing parents bringing their child to Kenyon for the first time and, four years later, watching their child walk down Middle Path to graduate. I have seen sweet and loving exchanges between parents and students, and I've witnessed tears from both parties across the table in my office. I've seen it go terribly wrong and terribly right. In the coming months, I will share what I know, as will our other writers.
I have a colleague at another highly selective college who instructs parents in this way: Don't pilot the spaceship. Be the fuel that allows the student to leave the orbit of your family and his or her high school. Be the booster rocket—and let them find the landing of their dreams.