Five Colleges of Ohio Names Sarah Kahrl as Executive Director
The Five Colleges of Ohio, Inc. has announced that Sarah Kahrl, director of the Kenyon Institute and senior advisor to the president at Kenyon College, will become its next executive director beginning July 1, 2017. Following a national search, Kahrl succeeds Susan Palmer, who is retiring after serving as the organization's leader for 20 years.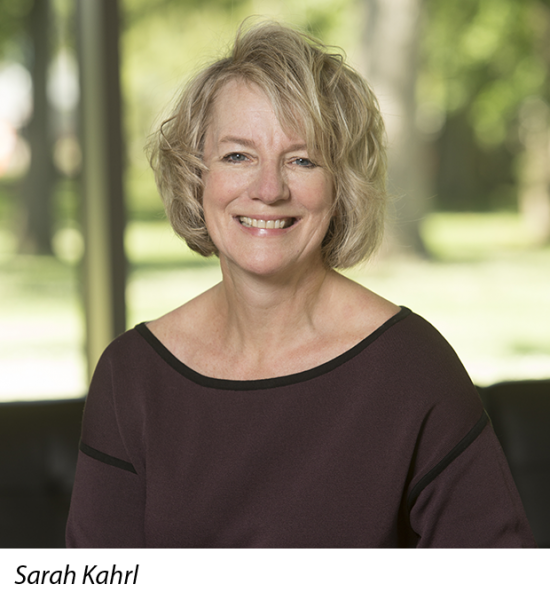 The Five Colleges of Ohio (also known as the Ohio Five) is a nationally recognized consortium representing The College of Wooster, Denison University, Kenyon College, Oberlin College and Ohio Wesleyan University. Founded in 1995, the organization promotes the broad educational objectives of its member colleges through collaborative academic and administrative programs, coordinated operating functions and resource sharing. With a strong focus on the liberal arts ethos, the consortium promotes academic and administrative excellence, thoughtful risk-taking that allows exploration of new areas, and cooperation to create efficiencies.
Kahrl assumes her role at the Five Colleges after a 12-year career at Kenyon, where she served as vice president for college relations (2004-2014) and led the College's successful $240 million "We are Kenyon" campaign. Since 2012 she has directed the Kenyon Institute, which offers an array of educational summer programs for adults. Prior to her work at Kenyon, Kahrl served as vice president for advancement at CAPA, a national arts and entertainment presenter in Columbus, Ohio.
"Sarah is the ideal candidate to direct the Five Colleges of Ohio. The consortium will benefit from her inventive leadership and vision that has fueled the success of the Kenyon Institute," said Kenyon President Sean Decatur, who serves as chair of the Five Colleges Board of Trustees. Kahrl looks forward to her service in the Five Colleges' next era. "Standing on the foundation of 20 years of effective collaboration under Susan Palmer's leadership, the Ohio Five is poised for a great future of deepened partnerships, valuable efficiencies and expanded service to its member colleges, and I'm honored to be a part of it," Kahrl commented.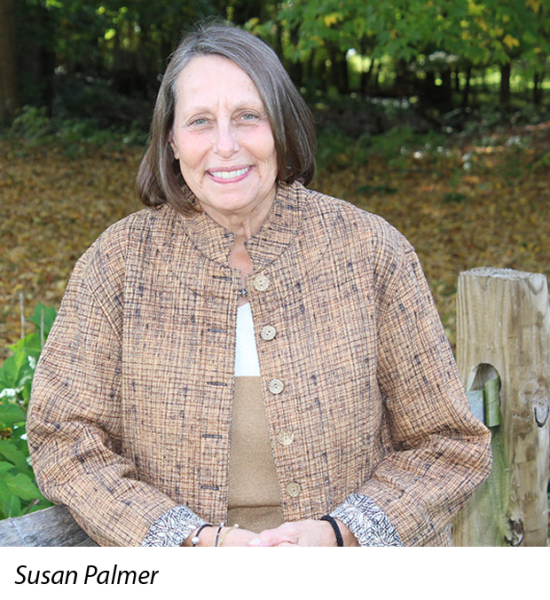 Susan Palmer assumed her current position as the first Five Colleges of Ohio Executive Director in 1996 after serving as the executive director of the Carolinas and Ohio Science Education Network (COSEN), a consortium of eight colleges and universities that was funded by the Pew Charitable Trusts to improve science education. Palmer holds a doctorate in educational studies with concentrations in cognitive neuroscience and science education.
Under Palmer's leadership, the consortium established innovative programs in library collaboration and digital scholarship, language teaching, and curricular transformation, as well as shared risk management and procurement services aimed to make all of the institutions operate more effectively and efficiently.
Decatur praised Palmer's service to the Five Colleges of Ohio. "Now more than ever, liberal arts institutions must look to each other for opportunities to collaborate and strengthen the student experience. Throughout her time as director, Susan has successfully advanced these critical efforts and developed a strong infrastructure for future consortial initiatives."
In October, Palmer received the 2016 John B. Noftsinger Award for Service and Leadership from the Association for Collaborative Leadership at the group's annual conference. The award recognizes Palmer's 15 years of service as an ACL board member and honors her contributions to support and strengthen cooperation among institutions of higher education and between those institutions and their partners in the community and in the corporate and foundation worlds.