(100) Days of Kenyon
Kenyon has always been a place that prides itself on tradition. From First-Year Sing to Summer Sendoff, there are certain events that electrify the whole community. One of the most highly anticipated Kenyon traditions is Fandango, an event thrown this past weekend that was exclusive to seniors and faculty and marked 100 days until graduation. Everyone gathered in Gund Ballroom to celebrate the remaining few months of the academic year. I sat down with three seniors who work in the Office of Admissions to see how they're feeling as graduation nears ever closer.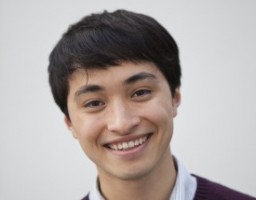 Name: Kei Helm
Hometown: Wilder, Vermont
Major: Biology
Concentration: Public Policy

Name: Anna Garnitz
Hometown: Shaker Heights, Ohio
Major: Psychology
Minor: Religious studies
Concentration: Legal studies

Name: Noah Williams
Hometown: Knoxville, Tennessee
Major: English
Minor: Studio Art
What will you miss most about Kenyon?
Kei: While there's a lot that I am going to miss when I leave the Hill — from the "Old Side" of Peirce to the oh-too-familiar study carrel in the library — what I'm going to miss the most are definitely the people and community I am surrounded by every day. I'm going to miss waking up every morning and running into amazing and passionate people who care about you and your success.
Anna: Well, I try not to think too much about graduation because I'm going to miss all of the wonderful, hilarious and inspiring people too much. I'll miss calling Kenyon home and all of the people who've made my time here so special.
Noah: It's special to be a part of something that is so uniquely comforting while also empowering. I'll also miss the lack of "real world" responsibility. As of right now, my only responsibility is to learn — nothing is cooler than that.
What do you dread most about "the real world"?
Anna: Having to rely on my own cooking skills for survival. There's a special place in my heart for Peirce brunch.
Noah: I'm really afraid of the stereotypical monotony of the daily 8-4 workday. I'm afraid that I'll be stuck at a job that doesn't challenge me and push me to learn. But I'm totally looking forward to having complete freedom with what I do and don't read!
Kei: Finding a place to live. … Can there just be a housing lottery for the real world?
Do you feel Kenyon has prepared you for post-grad life?
Anna: I'll get back to you on that!
Noah: I don't really know what post-grad life really is — I'm still very much immersed in the Kenyon world. But I do feel curious, inspired and excited. And with that, I feel like I am well-prepared for whatever comes my way.
Kei: Kenyon has prepared us well in the things that we can't just quickly pick up, like being a confident and independent individual who can not only communicate our thoughts and opinions both orally and in writing but also actually listen to the ideas of others.
Is there anything on your bucket list for the last 100 days?
Kei: I do want to somehow get to the top of Peirce Tower one of these days.
Anna: I want to ring the bells in the Church and explore more of the outdoors around Kenyon. I'm excited to go to the BFEC and the Gap Trail this spring!
Noah: I'd really like to find a way to the top of Peirce Tower one morning before sunrise, set up my camera, and get a really cool time-lapse of the sun rising over the fields to the east. I'd also like to play a professor in beer pong — I imagine that physics professor Tom Giblin has some great eye hand coordination.
Any advice for incoming first-years?
Anna: It's easy to get overwhelmed with work at times, but try to find moments throughout the day to spend with friends.
Noah: Eat copious amounts of ice cream from the Dairy and Whit's Frozen Custard. And every student should take a Monday, Wednesday, Friday class that ends at 4 p.m. That way on each Friday, you can listen to the Friday bells ring while you walk home.
Kei: Take a risk. Kenyon is a place where individuality, not conformity, is looked up to. Dive right in. In my time at Kenyon, the best things have come from taking a chance.