A Day in the Life of an Admissions Counselor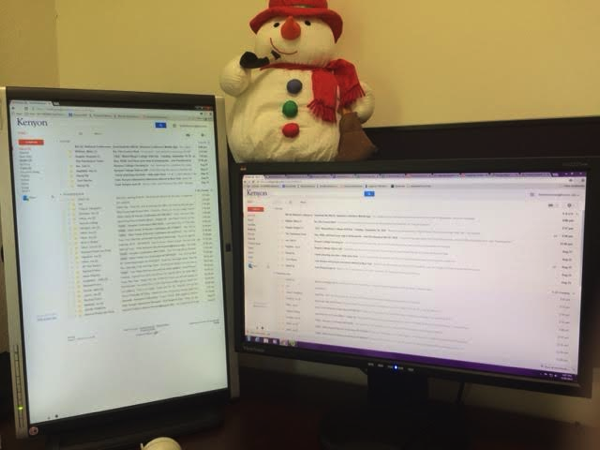 As someone whose last name doesn't fit in the SAT letter bubbles, I know that the college process is often burdened by standardized forms, charts, and impersonal data. On the other hand, as someone who went to a small, private liberal arts college, I know that college itself can be immersive, connected, and deeply personal. Kenyon is, and always will be, defined by its people. Community is paramount, and each student, staff member, and professor is encouraged to bring their complete, genuine self to campus. As a means of demonstration, here's a day in the life of a new member of the Kenyon community.
8 a.m.: Driving to work
Note: I was told to make this blog post "exude Ross." I think this video comes pretty close to doing exactly that.
9 a.m.: Answering emails
My Google Calendar and inbox quite literally run my life. That being said, student emails are always my top priority — please reach out with any questions! Also, since I imagine you're curious, the snowman is a little reminder of my home in Minnesota. His name is Lumi. He says hello.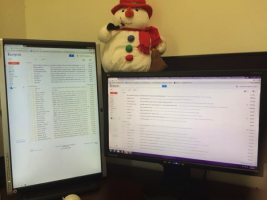 Note: When coming up the stairs to my office, the only thing people can see is the snowman. I like to think it gives a nice first impression.
12:15 p.m.: Info session with Kevin, Kenyon's student body president
Information sessions at Kenyon are usually given by a member of our staff and a student. We provide the admissions perspective, and the students tell you their Kenyon story. Kevin, a pre-med biology major, told the story of how the pizza chef in Peirce Hall makes him his favorite pizza once a week and texts him as soon as it comes out of the oven.
Note: I want my own personal pizza chef and will be doing everything within my power to make sure that happens in the near future.
3:30ish p.m.: Deafening screams
The director of admissions here, Darryl Uy, has taken to hiding behind various walls, doors, and potted plants in attempts to jump out and scare me like I've never been scared before. Rumor has it that people in the basement can actually hear my screams of terror from my third floor office. Below, you can find my attempt to exact my revenge. Be warned, the video is rather loud.
Note: This video was created thanks to Lauren Laskey telling Darryl that she "needed him to check an email" and me hiding behind a comically oversized printer. I'm pretty happy with the results.
8 p.m.: A trip to Whit's!
In a move that directly counteracts the time I spend in the Kenyon Athletic Center, a shockingly and unapologetically large number of my days end at Whit's — the local custard shop with a rotating flavor of the week. I was lucky enough to try the peach flavor on the day it came out. I may or may not have had it three more times that week. Totally worth it.
So, there you have it. A day in the life of a brand-new admissions counselor. I hope this showed you that admissions counselors are real people, that some of them have shamelessly bad taste in music, and that Kenyon is a place where everyone is encouraged to be exactly who they are.