Behind the Scenes at Ransom Hall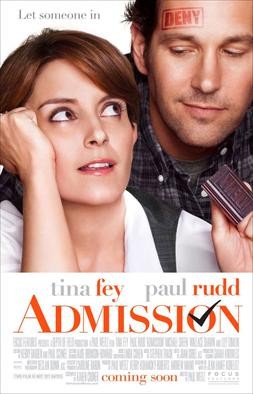 Have you ever seen the Tina Fey and Paul Rudd comedy Admission? In the movie, Fey plays an admissions officer at Princeton. While the movie is creative and humorous, some scenes don't accurately depict the admissions process. In order to demystify the process at Kenyon, I've selected some moments from the movie and compared them to what life is actually like in Ransom Hall.
Movie: A tour guide tells families that "there is no point in trying to impress [him] since [he has] no power in deciding their fates."
Reality: Correct! Tour guides at some colleges are volunteers, and at other institutions are paid positions in the admissions office. Tour guides are usually charming, peppy and masters of walking backward, but none of them read applications or sit in on decision committees. While tour guides become the face of the college for many families, I always remind prospective students to not judge their whole visit based on their interaction with one student at the college.
Movie: Tina Fey's character drives from Princeton to a high school in New Hampshire at least five times in one season.
Reality: While an admissions officer visiting a high school in the fall is routine, we generally don't visit a school that many times in one season. During the fall, we each travel to our assigned territories to visit high schools, offer evening presentations, conduct off-campus interviews and attend college fairs. Some high schools we visit every year, some we visit on a rotating basis, and a handful we visit for the first time. The schools we visit are based on the interest we've gotten from students at those schools in recent years.
Movie: Fey tells students that the "secret to get in" is to "just be yourself. If this is the right place for you, then this is where you'll end up."
Reality: Fey admits at the end of the movie that "there is no secret formula" to getting admitted. I agree completely! We want to know what makes you tick and what you will bring to our community. We obviously want to know what courses you have taken, what your grades are, and what your teachers and counselor say about you in their recommendations. We also consider other components – a passion for learning, sense of wonder, intellectual playfulness, leadership, maturity, self-awareness, initiative, creativity, grit – that come through in the essay, interview and recommendations. Finally, there are the institutional priorities of the college, such as racial, socio-economical, geographical and intellectual diversity, that must be considered.
Many Kenyon students and alumni believe that they were admitted because of their responses to the supplemental essay question that we eliminated last year. However, no one is admitted solely because of a fantastic essay. One of the reasons we chose to do away with the supplement was that we were admitting students who wrote weak essays and denying students who wrote great responses. There are myriad qualities, reasons and factors that make us say admit, deny or wait list.
Movie: All phone calls made to the admissions office are noted in the applicant's file.
Reality: Not all institutions track phone calls, but for some colleges, including Kenyon, this is true. We also make note of emails, interviews, campus visits and other interactions we have with students. In the industry, we call these various forms of contact "demonstrated interest." Given the cost of travel, we understand that some families are not able to visit our campus, which is why we note whom we meet on the road during high school visits, off-campus interviews, college fairs and regional events.
Movie: Applications are piled high all over Fey's office.
Reality: Some schools still read paper applications, but many read online these days. Since we are not confined to our office to read, many of us read at home in our pajamas. At Kenyon, we read from November until March, from the minute we wake up to the minute we go to sleep. Some files take 10 minutes to read, and others take an hour. And it's not because the story is complicated. Usually, the longer ones are due to transcripts that require time to fully decipher. Every application is read within the context of the education offered at the high school. Along with the transcript, counselors send us a school profile, which provides a description of the school and its community, resources and academic offerings. We compare transcripts to school profiles to better understand applicants' academic choices. We realize that some schools do not offer Advanced Placement or International Baccalaureate courses, so we would not penalize based on that. All we ask is that applicants challenge themselves across the curriculum — but within reason, so they can maintain a healthy balance among academics, activities and personal interests. As for grades, we usually look for trends. Is the student consistently strong or improving over the years? If grades are declining or if there are any dips in performance, students should let us know of any extenuating circumstances that may have affected their grades, such as illness, a death in the family, being bullied or transferring schools. Senior year courses and grades are important, and we expect applicants to maintain a rigorous schedule and strong grades all the way until graduation.
Movie: All admissions officers are "sadists who like to say no."
Reality: By definition, highly selective institutions will receive more applications than they have spots in their class. But our job as admissions officers is to find reasons to accept students. We want to say yes. We like saying yes. I can't speak for all admissions offices, but many of my colleagues at Kenyon would admit everyone if they could!
Movie: Committee deliberations are three weeks long.
Reality: At Kenyon, Early Decision 1 committee is one day in December, Early Decision 2 committee is one day in January, and Regular Decision committee is usually during Kenyon's two-week spring break in March. The process works like this: Every application is read twice, first by the admissions officer in charge of the high school or region, and then by another admissions officer. If both readers agree to admit, then the applicant most likely will be admitted. If both readers agree to deny, then the student most likely will be denied. When the two readers don't agree, the file will go to committee. About half of all files go to committee. In order for a student to be admitted during committee, the applicant must receive a majority vote by the admissions officers. Some conversations take a few minutes while others could take a while. Similar to the movie, we sit around a large table and go through all of the files for the day. However, unlike the movie, we are dressed comfortably (or in costume sometimes) with snacks and beverages and laptops scattered all over the table.
Movie: In the movie, nearly every student the committee admitted had a compelling story.
Reality: Kenyon, like many other institutions, aims to provide a quality education to a diverse group of students. However, students do not need to have experienced a traumatic, monumental, or life-altering event in order to stand out. Genuineness, self-awareness, and maturity go a long way in this process.
Movie: The dean of admissions tells Fey that one applicant she is pushing for is "too risky" and simply "not Princeton material."
Reality: Although one institution may not think of an applicant as a good fit, another school may consider the same applicant as a perfect match! So, even if things don't work out as you had hoped, just know that everything will be okay. No matter where you end up going to college, you will definitely get the education you need to succeed after graduation.