Beyond the Tour: The KAC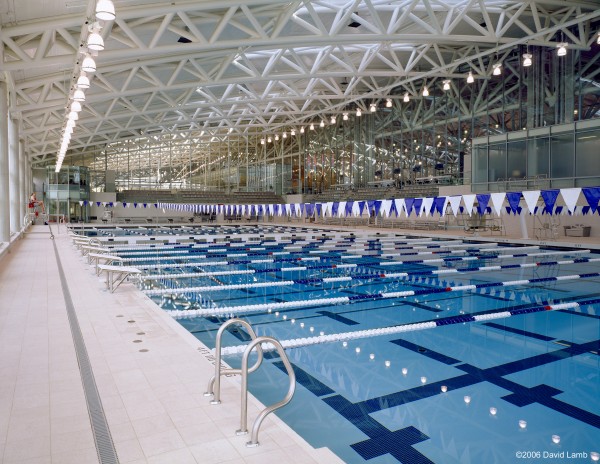 Here in the admissions office, we wish we could show you every last inch of campus during your visit … but alas, our tour guides can only walk backward for so long! In our new blog series "Beyond the Tour," we'll give you the scoop on some spaces that aren't highlighted on our 45-minute tours (and some extra info about spaces that are on the itinerary).
We'll begin with the Kenyon Athletic Center (or "the KAC" in Kenyon vernacular). Recently ranked number one on the Princeton Review's Best Athletic Facilities list, the KAC touts an endless list of resources and top-notch facilities. Whether you're a varsity athlete or just want to shoot some hoops, here are some reasons why the KAC will become your second home:
1. The aquatic center. For more than three decades, the Kenyon Lords and Ladies have reigned supreme in the water. But the KAC's Olympic-sized pool isn't just for the swim team! With nine long-course lanes, a diving board and a hot tub, the aquatic center is perfect for national champions and doggy-paddlers alike.
2. The sauna. Whether you want to unwind after a workout or de-stress during finals week, look no further than the saunas, located in each locker room. I feel more relaxed just thinking about it.
3. The classes. From power yoga to spin class to African dance, you're sure to find a fun, new way to work up a sweat. Plus, there's no registration and no fee! (Read: you have no excuse not to go.)
4. The theater. The 120-seat Beulah Kahler Theater is utilized for game review and team meetings. Plus, the space is rented out for visiting lecturers, film screenings and class presentations, making it a hot-spot for students.
5. The snack bar. Fresh fruit smoothies, sushi-to-go and protein-packed snacks at your fingertips! What could be better post-workout?
6. The equipment. In addition to its stellar workout equipment, the KAC has other sporting goods for your use. Want to start a bocce tournament with your friends? The KAC has bocce sets that you can check out. Cornhole more your style? You can rent out cornhole boards, too.
7. The location. Nestled into the very bottom of the Hill, you'll feel doubly satisfied with your workout once you make the trek back up to main campus. (You're not sweating, you're sparkling.)