Diving into Winter Fun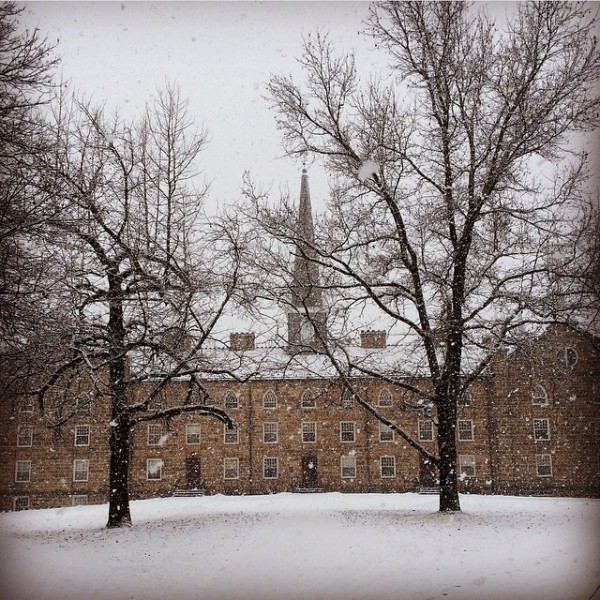 Despite the fact that much of the last month in Gambier has felt like spring, as the Starks say in Game of Thrones, "Winter is coming." Our office staff shared some of their favorite things to do and books to read during Ohio's colder months. (But before you hit the sledding hill, make sure your Kenyon application is in — the deadline to apply is Jan. 15.)
Jack Eyre, admissions counselor
Watching college football. While I love following and going to college football games at the Division III level, I especially love the winter season, because it means one thing: Division I college football bowl season! This is a tradition with my father and his side of the family. We have deep roots with the Ohio State Buckeyes and always tune in for the games.
Trish Priest, senior associate director of admissions
Sledding with my kids. My kids spent six years in the South when they were younger, so they still marvel at the snow in Ohio. I love to lug sleds up the hill then fly down, again and again. Every ride is unique, and most end with laughs and stories. Of course, it always ends with hot chocolate with marshmallows (and laundry!).
An Sasala, admissions counselor
Eating gingerbread while drinking chai and reading a comic/book. Gingerbread is definitively the best cookie ever, and I only make gingerbread once a year. And for me, there is no drink more relaxing than a warm chai tea latte. Giving in to some of my millennial traits, I binge-read my comics the way I binge-watch shows on Netflix, and I cannot wait to curl up in a chair to catch up with The Wicked + The Divine, Green Arrow and Ms. Marvel and to re-read Marvel's Civil War, the complete event.
Alice Straus '75, coordinator of alumni admissions volunteers
Reading The Martian by Andy Weir. This is a plausible, suspenseful, page-turner science fiction book that may eventually mirror reality. Since evidence of water was found on Mars, a human exploration of the planet may be possible. This is the tale of what happens to a botanist who is left behind on such a mission. His use of science to survive on an inhospitable planet is pretty accurate, I'm told, but it is his inventiveness and humor that hooked me. The book is constructed like a serial, with lots of cliff-hangers at the ends of chapters, so you want to read "just one more chapter."
Diane Kenealy '08, assistant director of admissions
Reading The Heaven of Animals: Stories by David James Poissant. David James Poissant came to Kenyon during the Kenyon Review Literary Festival in the fall. After attending a writing workshop he hosted, I became fascinated by his writing. Not sure where to begin this book? Start with the story "100% Cotton." It's about four pages, but it'll leave you thinking for at least four days!