Don't Forget to Make Your Visit Awesome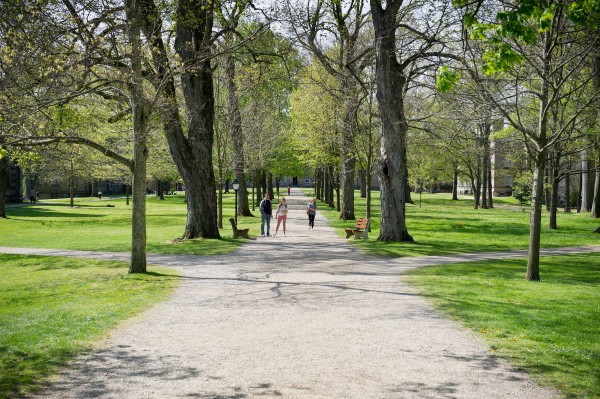 Congratulations, admitted students!
We realize April will be an incredibly busy month for you all, but we do hope you'll include Kenyon on your list of schools to visit. We put together a custom itinerary for students coming to campus, so you can really personalize your trip. Any weekday, you can come take a tour, visit classes, meet with professors, tour science facilities and have lunch with current students. On select nights, you can even stay the night in a residence hall. If you'd like to check out campus along with 100 of your potential future classmates, you can even join us for our Thumbs Up events April 9-10 and 19-20. Here are some tips on getting through the next month:
1. Start your planning early. As acceptance letters come in, you will have a lot of options, so figure out a visit schedule that makes sense for you without risking college tour fatigue. For your (and your parent's or guardian's) sanity's sake, please don't try to visit all 20 schools you get into — though if you do, you should probably live tweet that.
2. Pick the events that make sense for you. If you want a more customized visit, maybe doing a day trip or individual overnight is best. If you want all of the bells and whistles and don't mind crowds, big visit programs may be more your style. Please don't hesitate to reach out to us if you have questions about which kind of visit is right for you. And please give us a bit of a head's up so we can make your schedule awesome!
3. Ask your admissions rep questions. This was a crazy year for us, so if you are admitted, it's because we know you have the capacity to do incredible things here. We're really excited about you! (In the least creepy way possible.) So let us know how we can help, whether it's setting up some one-on-one time for you with a professor or even just chatting about the benefits of coming to Kenyon. One of my favorite memories from last year was sitting down with one of my admitted students and hashing out the pros and cons of attending a rural liberal arts college. We want you to do what's best for you, so we promise to be honest with you throughout this process.
4. See above, but for current students. You will meet tour guides, overnight hosts, lunch buddies and volunteers on student panels, all of whom are here to answer any and all questions you have about studying and living at Kenyon. Many of them were in your shoes only a year ago, so they are psyched to have the chance to help you.
5. Stay organized. Each college has a different registration form, which leads to you getting quite a few emails with all kinds of important details. Use Gmail labels, leave yourself notes on your phone, maybe even bring out that Lisa Frank Trapper Keeper (wrong generation?) so you know where to be and when. If all else fails, call the school to see what they have you signed up for — we all remember what this month was like for us!
We're really looking forward to meeting you in April. Congratulations again!