Have Grant, Will Travel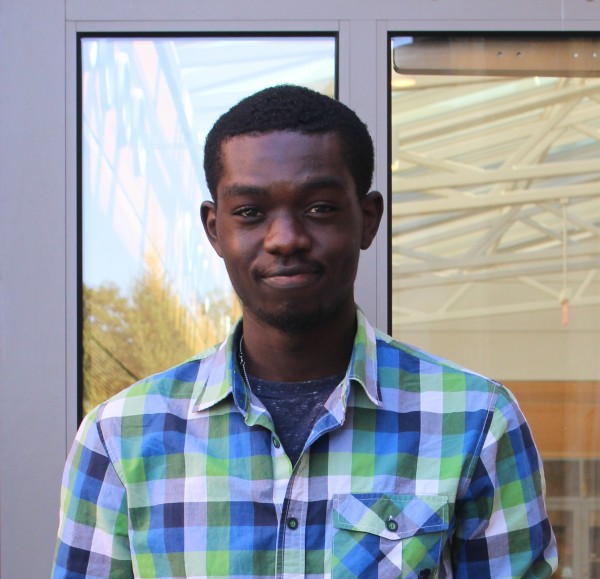 Want to visit Kenyon, but can't afford the cost of travel? Consider applying for a travel grant from Kenyon. The travel grant is designed to encourage first-generation college students and minority students to visit campus and learn more about Kenyon. The grants cover 100 percent of the lowest advertised airfares up to $500 or provide $50 to offset driving costs. Read about Benji's experience visiting Kenyon using a travel grant and make sure to apply for the grant by Dec. 1!
My name is Benjamin Raji (Benji) '17 and, on behalf of the Kenyon Men of Color student organization, I genuinely encourage you to apply for a Trustee Opportunity Travel Grant.
College visits can be routine, hectic and even sometimes arduous. I only visited two colleges out of the 14 to which I applied. A significant hindrance for my family and me was distance (I lived in Texas), and as a result, money. With the travel grant, however, Kenyon made visiting campus feasible.
I first visited Kenyon during Cultural Connections, a two-night admissions program. As a Nigerian-American who grew up in Harlem, New York, I requested to be hosted by a student of color. Upon my arrival, I discovered that my host also was Nigerian. The same night that I arrived, I beat him and his roommates — most of his hall in fact — in a game of NBA 2K13. I played basketball with some of his friends at the Kenyon Athletic Center and even went on a self-made tour with other prospective students. I am now a junior at Kenyon, and both my host and the student I played ball with are two of my best friends.
I didn't really have any expectations when I visited, despite having two sisters who graduated from Kenyon. But I learned just how strong community was in Gambier when I received a shoutout from an alumna at an informational panel during my visit. Upon my sister's suggestion, I introduced myself to a sociology professor during my first semester at Kenyon, and it was after the professor invited me to dinner with her family that I discovered she was the one who had requested the mysterious shoutout a year earlier. Now, this professor is the closest thing I have to a mother at Kenyon.
At Kenyon, you are able to make connections, not only with other prospective students, but also with students and faculty. I have shared a little piece of my past with you simply to say that a free trip to Kenyon, especially during one of its admissions events, is beyond valuable. Even if you decide not to come to the most beautiful campus in the nation, simply being able to experience Kenyon firsthand — for free — can leave you with both new contacts and a new perspective on what it means to go to a liberal arts college. And as a male student of color, there will be countless avenues for you to explore during your stay at Kenyon — we will make sure of it.