How to Pack for College Like a Pro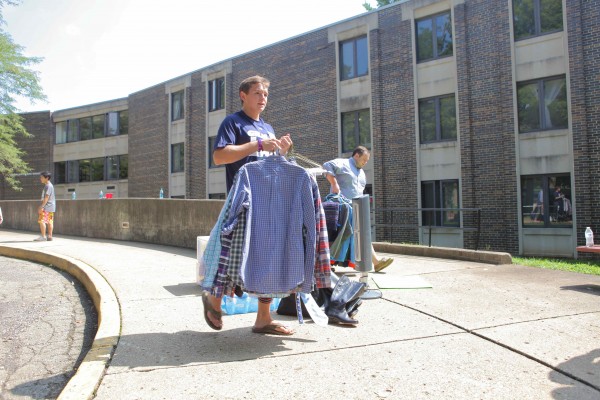 That last summer before college can be an emotional time. You're thrilled to be done with high school, sad to be leaving your friends, and already missing those home-cooked meals. The only solution to dealing with these emotions: dorm-room shopping.
Retailers are happy to sell you the perfect throw pillows to match your shower caddy, furniture that would never fit in a real dorm room (Rory bringing a couch to Yale in season five of "Gilmore Girls" is pure Hollywood invention), or items that are far too expensive and impractical for an 18-year-old living in 200 square feet. And yet, they often neglect the true essentials that should be at the top of any first-year student's list.
Below is a Kenyon-specific shopping list from someone who moved into Lower Norton five years ago and lived to tell the tale:
1. Cards Against Humanity and/or Bananagrams. What Kenyon student doesn't enjoy some spirited wordplay? Both these games – one outrageous, the other a bit more sedate – are ideal, because they can last anywhere from 15 minutes to three hours.
2. A laundry backpack (not a laundry bag, and definitely not a laundry hamper). A couple of the first-year dorms don't have laundry facilities in the building. A laundry backpack will be your saving grace as you trek across the quad with three weeks' worth of dirty clothes.
3. A jacket you don't mind losing. Because black/gray/navy coats are easily misplaced in the shuffle of the dance floor, you will want a cheap (and colorful!) fleece that stands out in a pile of North Face.
4. A dry-erase board for your door. Because you've always envisioned having one on your dorm room door. Even if you lose the marker and take it down in October, go ahead and live out that dream for a month and a half.
5. White undershirts. They can be cut up, tie-dyed, written on, spray-painted. I don't judge.
6. CDs and DVDs. Although it might sometimes seem like it, not quite everything is available on Netflix or iTunes, and bringing along some of your lesser-known favorites will secure your status as a cultural tastemaker. And what better way to make friends than to share that boxed set of every episode of "Fawlty Towers" with your hall mates?
7. Snacks that can sit in the bottom of your backpack for a questionable amount of time. Mixed nuts and granola bars are key.
8. A folding chair a la Tommy Bahama. There are 1,700 students at Kenyon. There are fewer than 1,700 Adirondack chairs at Kenyon.