New Faces in Ransom Hall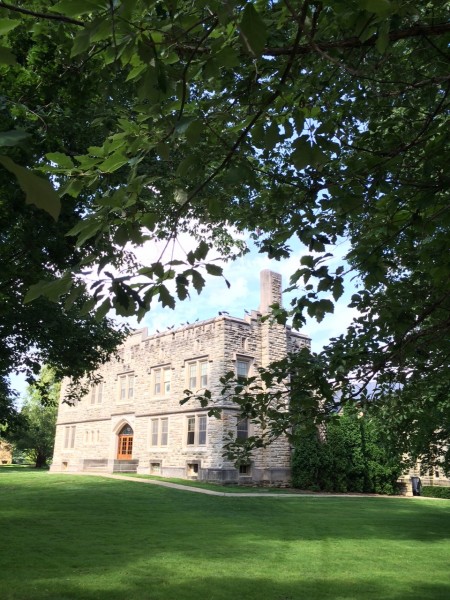 For many, the month of July conjures images of the beach, fireworks, barbecues, baseball and other fun-in-the-sun memories. As for me, this July signals the end of my stint as Kenyon's interim dean of admissions and financial aid. It was a true honor to serve the College in this capacity. As a member of the president's senior staff, the committee on academic standards, and faculty meetings, I gained a more in-depth perspective of the complex inner workings of running a college.
As enlightening and invaluable as my tenure has been, I am excited to pass the baton to our new Vice President of Enrollment and Dean of Admissions and Financial Aid Diane Anci, who brings 25 years of admissions, financial aid and enrollment management experience after serving at the helm of the admissions office at Mount Holyoke College.
This month, we also welcomed five new colleagues to our office:
Robyn Bowers, senior assistant director of admissions, is originally from the Springfield area of Ohio and went to Denison (please don't hold that against her), where she played and coached basketball. She is an avid cyclist but loves all sports. Prior to working at Kenyon, she was the assistant director of multicultural recruitment at Otterbein University.
Anna Dowling '15, admissions counselor, is no stranger to our office since she was a tour guide and admissions fellow during her time as a student. As a former member of Kenyon's sketch comedy troupe, she entertains the office with her quirky sense of humor (but I'm waiting for the day when she dusts off her old tap shoes and wows us with a little shim sham shimmy). She doesn't like to be surprised; she shouldn't have told me that.
John "Jack" Eyre (pronounced ire, not air), admissions counselor and campus visit coordinator, grew up in Westlake, Ohio, and recently graduated from the College of Wooster. He's our resident jazz musician (he plays the sax) and can often be spotted shooting hoops at the Kenyon Athletic Center. He loves chocolate, Coltrane and cilantro.
Diane Kenealy '08, assistant director of admissions, returns to the Hill after several years of working at a charter school in her home state of Colorado and volunteering for the Peace Corps in the Philippines. The move back to Ohio was a homecoming for her husband (also Kenyon '08), since he is originally from the Cleveland area. Although she played field hockey and rugby as a student, Diane is already assembling her intramural basketball team.
An Sasala (pronounced SAS-ah-la), admissions counselor, grew up in Parma, Ohio, and recently graduated from Gettysburg College. An is a polyglot (fluent in Spanish, German, and English and can read Dutch and Portuguese) who studied abroad in Chile and Germany. An enjoys cycling around the bucolic countryside of Knox County and is a member of a local knitting club (where they gets the latest Gambier "news"), and is excited to watch Kenyon rugby matches.
It's only been a few weeks since they all started, but I already can tell that they are great additions to the Kenyon family. It's going to be another fabulous year in Ransom Hall!