No Place Like Home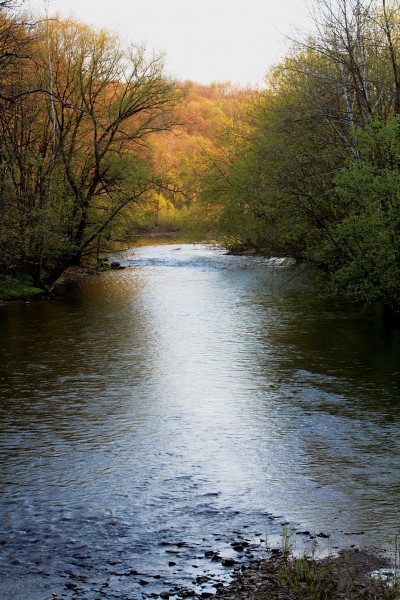 The arrival of November means travel season is nearly over. In the last six weeks, I visited 42 high schools, conducted 20 interviews, took 12 flights, recruited in eight cities (Detroit, Chicago, St. Louis, Kansas City, Salt Lake City, Santa Clara, Indianapolis and New York City), and attended one professional conference. I spent the most time in New York City, making three separate trips to the Big Apple (with two more scheduled in November). But with family and friends in the city, it never felt like work to me.
Like the popular T-shirts sold by street vendors, I heart NYC! The city offers so much to do — theater, concerts, museums, shops, sporting events, comedy clubs, restaurants, and everything in between. Everything you need or want is just a short walk, subway, bus or taxi ride away!
With so much happening in the city, the most frequently asked question I received during my travel there was, "What is there to do on campus?" Unlike urban colleges and universities, the energy of the Kenyon community is not diffused outward into the surrounding area but instead remains on our hilltop campus. As a result, campus life is just that — life on campus. Our students, as well as our faculty and staff, are invested in the Kenyon community. Campus life is student-centered and most of it is student-organized. Last year alone, there were nearly 600 academic and cultural events (closer to 800 if you include athletic and religious events), either sponsored by the College or by student clubs and organizations. Throughout the year, we bring the world to Kenyon, inviting a variety of musicians (Macklemore, the Lumineers, Aloe Blacc, Sleigh Bells), writers (John Green '00, Ransom Riggs '01, Ann Patchett, Michael Pollan), politicians (First Lady Michelle Obama), artists, scientists, and others to come and entertain our community. Compared to NYC, events on campus are free!
For those who want to get off campus for a while, Mount Vernon is only five miles away and has all the basic necessities any student would need. Plus, Columbus is about an hour from campus and offers arena-sized concert venues, plenty of shopping and dining options, art-house movie theaters, and a major airport. Even with all these options off-campus, Kenyon on the weekend is buzzing with energy, given the planned activities on campus.
As much as I enjoy my trips to NYC, I love Kenyon's open space, fresh air, natural beauty, and quiet serenity. Instead of the blaring car horns and the bright lights of the city, I prefer to be lulled to sleep by the Kokosing River. Perhaps I should start selling T-shirts that read, "I heart Kenyon!"