On the Road with Kenyon's Bike Co-op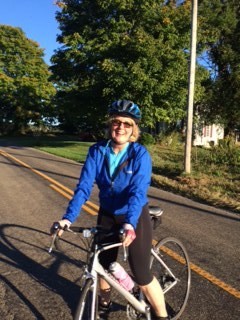 I made a trek with my Trek to Kenyon's bike co-op earlier this week, where several eager members were helping students get their wheels ready for some early fall biking. For $5, you can get a high-end bike shop tune-up. Talk about local talent!
(In case you aren't aware, there's no better place in America than Ohio to ride bikes. Seriously. The roads are clear, the hills challenging, and the landscape gorgeous.)
The bike co-op is staffed by students and a recent graduate or two, including Steve Nisi '14 (far right) and Sam Ebert '14 (far left), pictured below. Joining the vets were two juniors, Pauly Daniel and Joe Randles, both from Massachusetts, who are "gearing up" for bike co-op leadership positions. These grease monkeys live together in themed housing and lead weekend rides to local farmers' markets and other cool destinations.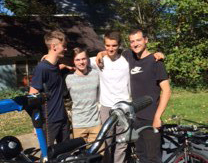 With my derailleur perfectly calibrated and a chronic saddle issue fixed, I headed out on the local roads for a short ride with administrative pals Sarah Kahrl (director of the Kenyon Institute) and bike co-op founder Bob Brown (a retired associate director of Admissions.)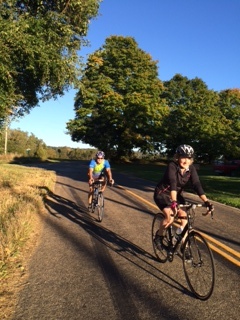 I will be hitting a different kind of road next week, visiting high schools in San Francisco. Hope to see you along the way!