Shoes, Death and the College Essay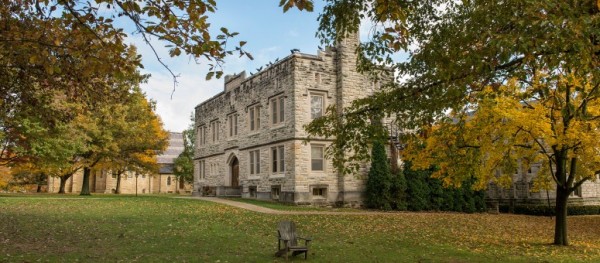 Panicking about writing the best college application essay of all time? After more than 16 years of working in college admissions, Associate Dean of Admissions Darryl Uy has become an expert on reading application essays. Read his tips for writing a successful essay and get prepared for a great college application season.
During the last 16 years in admissions, I have photocopied my favorite essays, and they are all in a binder in my office. If you read any of them, you will realize that they are about nothing. They are simply stories about a moment in someone's ordinary life that I can't find anywhere else in the application. One of my favorite essays was from a young woman who talked about her love for shoes. Why was this one so memorable? She was an international student who had lived in many different countries because of her parents' jobs, and in every country she lived in, she collected different types of native shoes. So, for every shoe she wrote about, she also described the different cultures and experiences she had in each country, which she brought to our campus after we admitted her.
I am always so hesitant to mention the shoe essay because I will inevitably get variations of the shoe essay from other prospective students. But you have to realize that that essay topic worked for her because of who she is and her experiences. So, my first essay tip for you: Find a topic that truly reflects the person and personality that you want to present in your application and allows your voice to shine through.
Tip 2: Try to avoid writing about an activity or an award, since there is a whole section on the Common Application to do that. I also would avoid what I call the Four D's — death, divorce, depression and, my favorite, dating. While I am sure you can write a good essay about the first three topics, they are often difficult to write about in a mature and insightful way within 650 words. For instance, death essays usually end up being about carpe diem, living life to the fullest. This is something that we have all heard before, so it's not original or new.
Tip 3: Don't try to shock us — you'll usually stand out for the wrong reasons. Your essay does not have to be traumatic, monumental or even life-altering. It just has to be about you. No need to write a diary entry in which you share your deepest, darkest secrets. If you won't share your essay with your family, then why let a complete stranger in an admissions office read it?
Tip 4: Know your audience. Controversial topics may not go over well depending on who reads your essay.
Tip 5: Although Kenyon eliminated its supplement, some schools will require extra essays, so be sure to answer the question they are asking and put as much time and effort into these responses as you do for your main Common Application essay. Many schools will ask why you are interested in them. Any notes you may have taken after visiting colleges will come in very handy as you draft your answer to the Why X College prompt.
Tip 6: Proofread, proofread, proofread. Just because your computer has spell-check doesn't mean that you have proofread your essay. Any kind of typo or error could distract from fully enjoying your essay.
Tip 7: If you are not a funny person, please, please don't try to be funny in your essay. It rarely works. Now is not the time to attempt to be a stand-up comic.
The college essay is often the most stressful part of the application for students. But just remember that it is not an assignment in terms of choosing the most bizarre or most interesting topic. It is more about how you think, how you write and how you express yourself. You can take the most mundane topic in the world and make it the most interesting piece of writing that I have ever read. If you can take me out of my office and into your world for five minutes, then I would consider that a successful essay.