The Things They Carried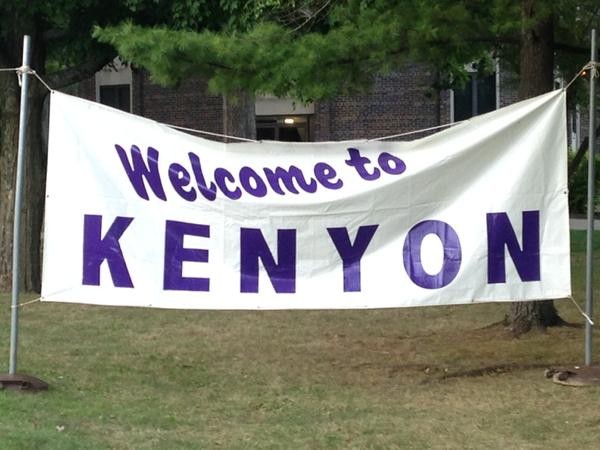 "Beginnings and endings" was the theme as 493 first-year students from 42 states and 18 countries began their lives at Kenyon on Saturday, Aug. 22. While several dozen Class of 2019 students had been on campus for pre-orientation programs and pre-season athletics, for the clear majority of first-years, this past Saturday was Day 1. For admissions folks, this is our favorite day of the year. All of our work over the last 18 months — the interviews and high school visits, the application reading and on-campus hosting — comes to a culmination on move-in day. The last time we saw many of the members of the incoming class, they were still deciding about where they would spend the next four years. Now, as they picked up their keys and signed forms, they were the newly minted members of our community. I took particular delight in meeting for the first time some students who applied from states I hadn't visited. Julia Cashell from Reno, Nevada, had spent the year in France, and we had never met. I had read and admired her admissions file, and I couldn't help but hug her when she came up to me and introduced herself.
Students carried with them things we in admissions could see — their skateboards, ukuleles and pillows — but they also carried so much that was invisible — nervousness, excitement, the niggling question if they'd made the right choice for college. I remember my own first day at another liberal arts college in the Midwest. My East Coast roommate seemed so very smart and sophisticated. "How would you like to arrange the room?" I asked. "I don't care, I'm amenable," she answered. I panicked: I had no idea what "amenable" meant! (Yes, my high school vocabulary had some definite gaps.) But three hours later, while eating dinner, we started to giggle — and couldn't stop. And I knew then that we would be friends. What I didn't know is that both of her children would enroll at Kenyon!
While Saturday was move-in day, Sunday was the official welcome. Kenyon has a wonderful opening Convocation whereby all first-years march in with their hallmates and are presented to the faculty, adorned in colorful robes and crazy hats, by Admissions Dean Diane Anci. Vice President of Student Affairs Meredith Harper Bonham '92 urged students to "open many doors" and told a story of a famous author who ended up baking cookies at the president's house when the stove in her residence hall didn't work. Building on Dean Bonham's story, President Sean Decatur invited the Class of 2019 to bake him cookies — while also exploring the laws of thermodynamics. (As a chemist, he can't resist a good science analogy.) After Convocation, students bade farewell to their parents and met with their all-important faculty advisor to begin planning their first-semester schedule. And that night, they attended a presentation called "Life on the Hill" which introduced them to what it means to be a member of this quirky, wonderful community.
Students will spend Monday through Wednesday taking placement exams, exploring the surrounding area, attending departmental presentations, having a picnic and a bonfire, and attending a screening of "Dear White People," to name just a few of the many things that happen in these opening days. Classes begin on Thursday — and the year is off and running!
And just think, you high school seniors, next year at this time, you too could be practicing the four Kenyon traditional songs in preparation for the much-beloved tradition, the First-Year Sing! We hope to see you in about 12 months on the steps of Rosse Hall.