5 Takeaways for Junior Visit Day
Juniors, it is that time of year. Spring approaches, bringing with it a vibrant assortment of college brochures, emails and visit program invitations popping up like wildflowers in your inboxes. By now, you may have taken a few tours and sat through some info sessions, and you think you know the drill. Or, maybe you've signed up for Junior Visit Day (April 2) and aren't quite sure how to prepare.
Before I developed a peanut allergy, my favorite candy bar was the Take 5. Just as I always chose that perfect combination of chocolate, peanuts, pretzels and caramel from the grocery store shelf, you plucked Kenyon's invitation from the pile. We cannot wait to welcome you to campus! To help you make the most of your Junior Visit Day experience, "take 5" pieces of advice from us:
Take a look at the schedule. Your visit will be packed with various activities, including tours, faculty panel discussions and student Q&As. Plan ahead, figure out what time to arrive on campus and check out your options for activities that day.

Take notes and photos. Visit days go by fast. Make sure you have a way to keep track of important facts, and snap some Instagrams of campus. (Don't forget to tag them with #KenyonCollege!)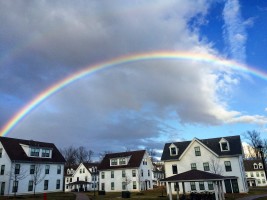 Want to see more? Check out Kenyon's official Instagram.
Take us up on lunch. Food is pretty important. And it is a fact that Peirce Hall's food is local and fantastic. But, don't take our word for it — try it for yourself.

Take a tour. In addition to a fun and informative tour of campus (complete with backward-walking tour guides), we also offer tours specific to fine arts and the sciences. If either of these areas strikes your fancy, join one.

Take a break. Sometimes you just need to take a moment and process everything. Stop by Wiggin Street Coffee to relax, mull over all the information you learned during the day, and re-energize for the afternoon tour!
Junior Visit Day is a great way to introduce yourself to Kenyon College and to begin your college search. Can't make it but still want to experience Kenyon? Schedule a visit with us — we'd love to see you any time of year. Questions? Call the Office of Admissions (740-427-5776) or email us: admissions@kenyon.edu.
Related: