Beyond the Tour: The NCAs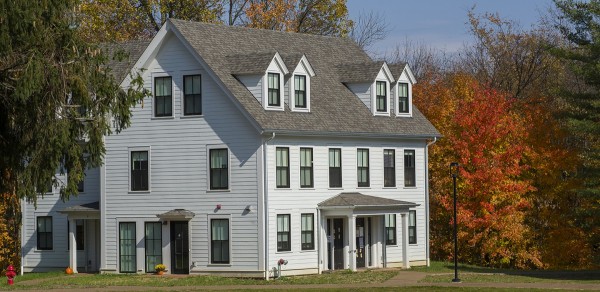 During the college search, there's a huge emphasis on first-year housing. Which residence hall is the best? Do I want to live in a co-ed hall? How do I get paired with a roommate? So many questions are swirling around that upperclass housing options sometimes don't even make it into the conversation.
But for those who are curious, or for those who have immense foresight, here's a peek into some of Kenyon's upperclass housing, the North Campus Apartments (NCAs). Built just a few years ago, these beauties are in such high demand that they are assigned in an entirely separate round during the housing lottery.
What makes the NCAs so popular? It could be the patios that are perfect for grilling, the central quad that's ideal for Frisbee, or the full-size kitchens, which open up a world of possibilities for socializing. (Dinner parties, anyone?) They also offer ample storage space.
NCAs house either four students (four singles or one double/two singles) or eight students (four singles/two doubles) and collectively house up to 216 students each year. The NCA loops also are home to many theme houses, such as Unity House and Yoga & Meditation House.
A bird's-eye view of the NCAs, or "the suburbs."
A typical NCA common room.
An NCA double.
NCAs have a large population of theme houses, such as Unity House.
Related:
Beyond the Tour: The KAC
Home Sweet Hill: Life with Friends in an NCA
4 Years of Easy Living