Nine Reasons to Apply to Kenyon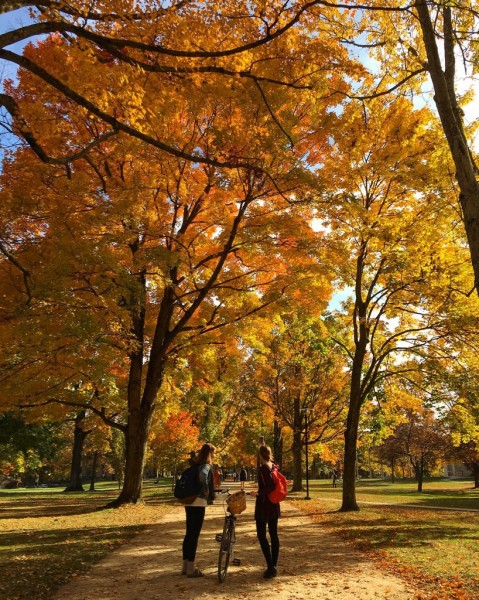 Why apply to Kenyon? While we could go on forever about our breathtakingly beautiful campus and brilliant faculty members, we only have nine days left until the Jan. 15 application deadline! So, we will save you some time by narrowing down our response to nine of our favorite reasons to apply.
1. Because with hundreds of events on campus every semester, you will always have something to do. Clear your schedule, because we're about to fill it with athletic events, BFEC hikes, lectures from nationally renowned speakers and a cappella concerts galore.
2. Because Kenyon inspires best-selling author John Green '00. Green based parts of his hit novels The Fault In Our Stars, Looking for Alaska and Paper Towns on people he met and places he visited on Kenyon's campus. He returns to campus in May to give the address at Kenyon's 188th Commencement.
3. Because Kenyon is a small place to think big thoughts. Kenyon offers seminars in intimate settings (the average class size is 15) for thought-provoking discussions led by passionate professors.
4. Because the Kenyon Athletic Center isn't just for athletes. Yes, the KAC boasts a glass-encased Olympic-sized pool and top-notch workout equipment, but it's also stocked with bocce and cornhole gear and a smoothie bar, making the KAC a destination for anyone who wants to have fun.
5. Because we keep it fresh. From apples grown down the road to farm-fresh eggs, 40 percent of our food is locally sourced, making Kenyon a national leader in local foods.
6. Because Walk the Moon first found its rhythm at Kenyon. Frontman Nick Petricca '09 founded the chart-topping group while he was a music major at Kenyon. "It's really where I began figuring out who I was as a writer and an artist," said Petricca, who named one of the band's hit songs, "Anna Sun," after Associate Professor of Sociology and Asian Studies Anna Sun.
7. Because Kenyon is one of the most beautiful campuses in the world. Kenyon often ranks as one of the prettiest college campuses — and for good reason. Get ready to fill your Instagram account with photos of Middle Path in the fall and the architecturally stunning Ascension Hall.
8. Because Ohio has plenty to offer. Kenyon is just an hour's drive from Columbus, the 15th biggest city in the U.S., providing lots of opportunities for both work and play. Ohio also hosts numerous state and national parks, and it boasts the roller coaster capital of the world, Cedar Point.
9. Because Kenyon graduates excel in every profession. Beginning in your first year, the Career Development Office connects you to a professional network of 8,000 alumni and parents and prepares you for internships that lead to careers. No wonder 92 percent of seniors in the Class of 2014 who are employed secured their first jobs while at Kenyon or within six months of graduating.
What did we miss? Add your reasons in the comments!