What to Read Next: Part I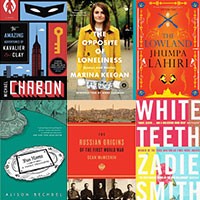 Growing up, I was a hardcore bookworm. Every Saturday, my mother, a librarian, would take my younger brother and me to the local branch and let us loose. Through the pages of Dr. Seuss, I traveled to multicolored, rhyming lands, while Roald Dahl and I stood strong together against the Vermicious Knids.
My memories of the library are numerous and happy, so imagine my joy at learning that 1) my new office in Ransom Hall used to be a library, and 2) people at Kenyon are voracious readers! If you're wondering what you should read next, our tour guides, fellows, and admissions staff members have stepped in to provide some recommendations. In fact, we have so many recommendations, we will be sharing them in two blog posts! So, find a spot in the sun, curl up on the couch, crack open a book, and get to reading!
Abby Arace '16, tour guide
Although the adage goes "don't judge a book by its cover," Abby was hooked by the whimsical cover of The Amazing Adventures of Kavalier and Clay (2000) by Michael Chabon. She describes the book as an "incredible, Pulitzer Prize-winning novel about two young men growing up in Brooklyn during World War II and the comic book character they create."
Chace Beech '16, admissions fellow
Chace suggests picking up Zadie Smith's White Teeth (2000) or Colm Tóibín's Nora Webster (2014). White Teeth — a novel about race, class, religion, romantic and familial love — spans several generations and is set primarily in London. In Chace's words, it's "totally crazy and very entertaining." She describes Nora Webster as "a beautifully written, wonderful glimpse into an Irish woman's world after the devastating death of her husband." Set in 1969, the book also touches on class warfare and violence in Ireland, making it socially and historically poignant.
Robyn Bowers, senior assistant director of admissions
Robyn recommends In the Woods (2007) by Tana French and The Lowland (2013) by Jhumpa Lahiri. In the Woods, the first novel in a series of psychological thrillers featuring detectives from the Dublin "Murder Squad," is described by Robyn as "dark, haunting, and entirely entertaining." The Lowland spans four generations of an Indian family and their journey through revolution, immigration, love and sacrifice.
Gray Clark '17, tour guide
Gray recommends books that relate to his fields of study: history and Russian. His first pick, Sean McMeekin's The Russian Origins of the First World War (2011), encourages readers to examine the past. As Grey puts it, "it's [an] interesting take on a common misconception in history, also the topic of my senior comps!" He also recommends Mary (1926), a lesser known, but thoroughly enjoyable work of Vladimir Nabokov, which tells the tale of a Russian emigre living in Berlin after the 1917 Revolution.
Anna Dowling '15, admissions counselor
Anna suggests picking up the insightful The Opposite of Loneliness: Essays and Stories (2014) by Marina Keegan. In Anna's words, "Marina Keegan graduated magna cum laude from Yale University in 2012 with a job awaiting her at The New Yorker. Tragically, she died in a car crash just five days after graduation day. What she left behind is a collection of poignant essays that capture the hope, possibility and uncertainty of a generation."
Anna also recommends Modern Romance (2015) by Aziz Ansari, her favorite comedian. For this book, Ansari "teams up with NYU sociologist Eric Klinenberg to delve into the pleasures and perils of finding love in the digital age" providing commentary on how we attempt to connect (and how we're failing to connect) in the modern world.
Diane Kenealy '08, assistant director of admissions
Diane recently finished Alison Bechdel's Fun Home (2006), which is making waves on Broadway as a musical of the same name. As Diane describes, "Hilarious and poignant, this autobiographical novel is sure to dazzle you. Bechdel is a talented writer and artist. Brilliant!" She also suggests checking out Robin Black's If I Loved You, I Would Tell You This (2011). "I had never heard of Robin Black, but the title of this collection of short stories immediately captured my attention. Robin Black takes ordinary circumstances and brings them into stunning relief. A single phrase in her short stories can hold such depth and truth that you can't help but pause and ponder its implications."
Abe Lawal, admissions fellow
Abe had this to say of his recommendation, Robert Ludlum's The Parsifal Mosaic (1982): "From the mind of the Bourne Series novels comes this wonderful book on love, betrayal and dubious political agendas. As a fan of the mystery and crime genre, Ludlum creates a deceptively real world for his readers. I recommend this novel for your pleasure."
Ready to hop in your car and drive to the library? Already furiously typing book titles into the Kindle store or iBooks? So am I! Well, these titles are probably enough for this week. Make sure to check back later for more great suggestions!
Need even more recommendations? Explore what else we're reading.