A Diversity of Faith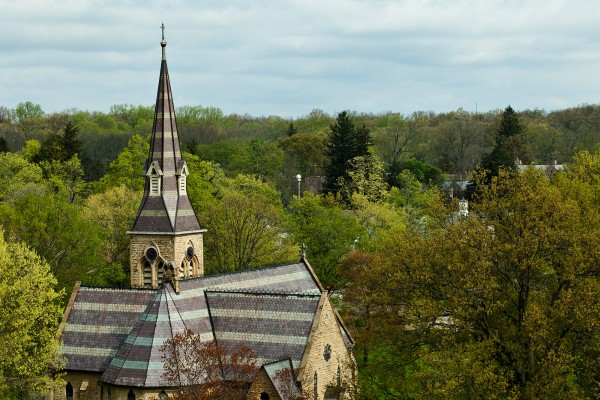 In 1824, Kenyon College began as an Episcopal seminary, the first to be established in Ohio (then the western hinterlands), with a mission to train clergymen for the newly emerging villages of the former Northwest Territories. The student body was very small, and by contemporary standards extremely homogeneous: all male, all white and all Protestant. Fast forward 192 years, and the face of the institution has changed dramatically: Kenyon is now a coeducational, multiracial institution, with students from all over the country and all over the world, and from a number of different religious faiths. That diversity is essential to the learning that happens here, and building a diverse and inclusive community is an important part of our liberal arts mission.
The word "diversity" is often used as shorthand or code for "race." But there's so much more to it — gender, sexuality, socio-economic class, political perspective, geographic origin and religious faith are just some of the dimensions by which we classify ourselves, and through which we often categorize diversity.
Religious faith is often the most under-discussed point of difference at a college such as Kenyon. This does not mean that colleges are free from religious prejudice and bias. To the contrary, accounts of anti-Muslim bias and anti-Semitism are on the rise at colleges across the country, and Christian students are sometimes reluctant to discuss their faith openly. We will fail to create a community inclusive of religious difference until we can do the work of listening and empathizing across boundaries of faith.
There is urgency to the work of interfaith understanding. We live at a time when many citizens struggle to distinguish between religious faith and religious extremism, and when fear and prejudice empower a candidate for president of the United States to promote discrimination against Muslims. In other words, we are faced with a critical paradox: many of the forces that are polarizing our world can be overcome only by communication and understanding across religious difference, but colleges too often fail to create an environment for young people to take the lead in this interfaith work.
Eboo Patel has made resolving this paradox his life's work. Founder of the Interfaith Youth Core, an international organization that brings young people of different faiths together in shared service experiences, he has written extensively about the importance of interfaith dialogue and collaboration to broader social justice efforts. His work is not just interesting; it is essential. I am thrilled that we will host him on campus Wednesday, Sept. 7, and I urge everyone here in Gambier to attend his reading at 4 p.m. in the Cheever Room and/or his lecture at 7:30 in Rosse Hall.