A New Generation of Activism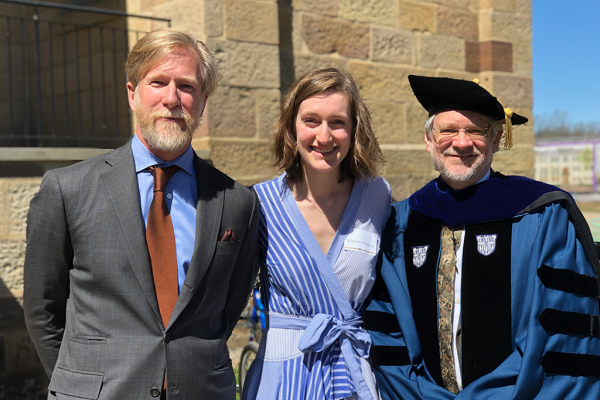 Earlier this month, Kenyon held its annual Honors Day ceremony, in which members of our Kenyon community are celebrated for their successes both in and out of the classroom. New to the program this year was the inaugural Leopoldo López '93 Student Award, given to a student who exemplifies the commitment that Leo has shown to pursuing free and fair democracy.
We often talk about a liberal arts education in terms of the skills it produces — the ability to write and communicate clearly, to analyze data, to think critically. But perhaps most importantly, a liberal arts education motivates and empowers us to translate ideas from our classroom learning into action. Leo, an opposition leader and political prisoner in Venezuela, has long modeled these outcomes that a liberal arts education propels one toward; he has dedicated his life to civic engagement, and to leading others in striving for freedom and justice.
By the time the winner of this year's Leopoldo López Award, international studies major Schuyler Stupica '19, arrived at Kenyon four years ago, Leo had already been held in Venezuela's infamous Ramo Verde prison for nearly a year and a half, having turned himself in to Venezuelan authorities in February 2014 after being accused of inciting violent political protests. (He still lives without his freedom today, having been transferred from prison to house arrest in summer 2017.) And yet the values that Leo has demonstrated, even during his imprisonment, ripple out and touch us all here in Gambier today.
Leo has shown how one person's actions can spark broader conversations, even thousands of miles away, around the ideals we hold most dear. His commitment to democracy in Venezuela, and the personal sacrifice he has shown in raising his voice, have changed the discourse concerning Venezuela's political future, drawing attention from leaders around the world.
In creating this student award in his honor, Leo's family, friends and fellow alumni are keeping his spark and his story alive, ensuring that generations of Kenyon students will see the promise and the value of a life lived in pursuit of a higher public calling. Our students have shown they are ready and willing to carry on the charge that Leo has demonstrated from his earliest days as an activist here at Kenyon; Schuyler, the winner of this year's López award, has shown remarkable commitment to civic engagement through her work in the classroom and on the campaign trail for a congressional candidate. We should all be so inspired, and fortunate, to follow Leo's model and to be able to use our education to further the public good.
Photo: Leopoldo López's classmate and friend Wright Ohrstrom '93, one of the founders of the López Award; award winner Schuyler Stupica '19; Professor of Political Science David Rowe, interim director of Kenyon's Center for the Study of American Democracy, which facilitated the award.