Athletics, Excellence, and Liberal Education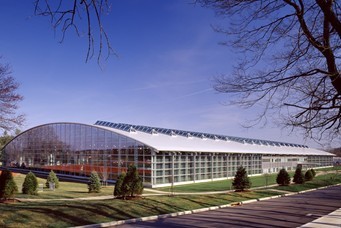 This is an exciting week for Kenyon athletics: the field hockey and men's and women's soccer teams each brought home NCAC championships on Nov. 8. The accomplishments of these teams are remarkable, and I hope the entire Kenyon community joins me in congratulating the players and coaches on outstanding seasons.
When undergraduate education is put under the microscope, few areas generate as much scrutiny (and at times controversy) as athletics. At large Division I institutions, the drive for success in athletics at times seems to trump the values and mission of education (a good example is the recent University of North Carolina controversy). Even at smaller colleges, athletics is often singled out for contributing to the rising costs of education, and articles speculating about disruptive innovations in higher education often identify eliminating athletics as a cost-saving idea. Our athletics achievements this week fill me with pride, and they illustrate the power of athletics to unite a community. But how does athletics fit in our mission?
The process and conversations around the Kenyon 2020 strategic plan look both to our traditions and to our future in order to articulate the vision and mission that will propel us forward. Central among these are a commitment to rigorous undergraduate education in the liberal arts tradition, preparation of students for life-long success as leaders in their communities and in their careers, and the formation of personal bonds and connections that last a lifetime. As we look closely, athletics plays an important role in all of these areas.
Contemporary education in the liberal arts and sciences has roots in ancient Greece, where the connection between athletics and education was very strong; Plato writes in The Republic about the connection between "gymnastics" and education. The idea that developing the body, and promoting one's physical health, is essential to development of the mind persists in the 21st century. Beyond that, the spirit of competition and of performance embodied in varsity athletics offers invaluable learning opportunities that complement work in the classroom. Varsity athletics offers an opportunity to practice and hone a set of skills with an intense level of focus, followed by a public performance measured against absolute objectives. This set of actions — practicing a skill until you can perform at your highest level, then executing against a high standard of excellence — serves students beyond the playing field, translating smoothly to the professional world.
And this performance against a standard of excellence happens in a team context. Varsity athletics involves working with others; learning to lead, collaborate, and follow; and helping those around you perform better. These experiences help to forge the leadership abilities that serve our graduates well in a range of settings. In other words, the experiences that students have on the fields and courts of play are consistent with our core values and aims.
I was not an athlete in college (or in high school), and those of you who have seen me slowly running along the Kokosing Gap Trail or searching for rhythm while dancing in the athletic center in preparation for Dancing with the Kenyon Stars have observed firsthand my coordination challenges. Like others, I have found other venues to gain the same benefits found in varsity athletics. Many other activities, from the performing arts to community service, provide similar experiences for developing one's performance and leadership skills.
Though I have never been a varsity athlete, I am a sports fan. While I was growing up in Cleveland in the 1970s and 1980s, sports fandom became a way to form a larger community identity, to connect with strangers on a bus or in a store, to share in a common spirit (often, in the case of the Cleveland sports of my youth, a common sadness or disappointment) that is invaluable. I feel that same spirit on the sidelines at Mavec and McBride fields. This, too, is a part of the Kenyon experience.
Please join me in cheering on the Ladies and Lords as they strive for excellence.