Changing the Conversation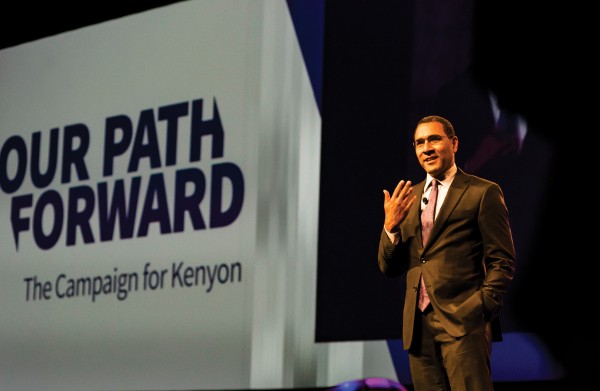 When I think about the power of philanthropy, my mind jumps to the power it has to transform the lives of individuals; to turn aspirations into reality; to inspire others to effect change. But when I read of Michael Bloomberg's gift of $1.8 billion to Johns Hopkins University, I also was reminded of the power a gift has to change a conversation (in this case, a national conversation), moving our collective thinking beyond what can't be done to what, in fact, must be done.
As Mr. Bloomberg highlights in his op-ed, our nation faces a crisis: Many of our most talented young people do not have the financial means to reach their complete educational potential. Most highly selective colleges and universities (including Kenyon) lack the financial resources to admit all talented students without consideration of ability to pay tuition. Our American dream holds that our society should be meritocratic, and that one's opportunities should be determined by one's talents and determination, not by one's socioeconomic backgrounds. Yet the reality is that entry to some of our best colleges and universities is determined at least as much by family wealth as it is by academic potential.
Kenyon continues to take steps to address these issues within our campus and to join in these important national conversations. We have partnered with the American Talent Initiative, which aims to increase the number of academically talented, low- and moderate-income students who enroll at colleges and universities with consistently high graduation rates. We have grown and strengthened our programs to help build pipelines of talented high school students to Kenyon — programs like the Kenyon Academic Partnership and Camp IV. And our KEEP and S-STEM scholarship programs help to give those students a strong start when they arrive to campus as undergraduates.
A central priority of Our Path Forward, Kenyon's comprehensive fundraising campaign publicly launched last month, is to raise at least $100 million in endowment for financial aid. This includes a new $20 million President's Fund that will ensure that students at the top of Kenyon's applicant pool will not be turned away because the College cannot meet their financial need. All of us can play a role in moving Kenyon toward this goal; indeed, if we are to be successful, all of us must. While a single, transformational gift can power change, it is our collective action that sustains it. We have set a goal that 70 percent of Kenyon alumni will support this campaign; personally, I hope that 100 percent of our graduates will be moved to contribute to this effort, in whatever way they can.
Our aspirations for what Kenyon can do to boost opportunity are high, and like Mr. Bloomberg, we are focused on executing a vision of change. I am deeply grateful for everyone who is contributing to this vision and joining in this conversation.