Continuing a Learning Journey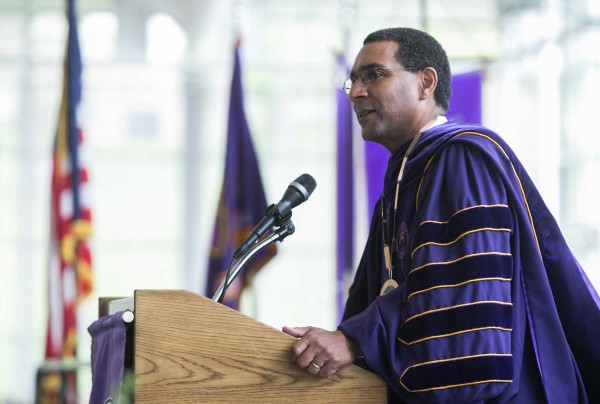 The following is a transcript of the address President Sean Decatur gave to graduates at Kenyon's 187th Commencement ceremony on May 16, 2015.
Congratulations again to the Class of 2015. To close today's ceremony I would like to leave you with some brief words of wisdom, written by one of my personal heroes, who in 1947 as an 18-year-old college student penned his thoughts on the purpose of education in an essay in his college newspaper:
"It seems to me that education has a two-fold function to perform in the life of [a person] and in society: the one is utility and the other is culture. Education must enable a [person] to become more efficient, to achieve with increasing facility the legitimate goals of [one's] life. … [to] train one for quick, effective thinking … Education must enable one to sift and weigh evidence, to discern the true from the false, the real from the unreal, and the facts from the fiction."
These words, written by a young Martin Luther King Jr., certainly ring true today. His essay continues:
"But education which stops with efficiency may prove the greatest menace to society. … We must remember that intelligence is not enough. Intelligence plus character — that is the goal of true education. The complete education gives one not only power of concentration, but worthy objectives upon which to concentrate. The broad education will, therefore, transmit to one not only the accumulated knowledge of the race but also the accumulated experience of social living."
Our world is sometimes characterized by the catch-phrase "volatile, uncertain, complex and ambiguous." Challenges are often unexpected or unstable; events lack predictability; situations have many interconnected parts and variables; and causal relationships are often unclear. Political, social and scientific problems can be characterized by these four factors, whether we are thinking about the Ebola epidemic in 2014, ongoing political and military crises in the Middle East, to challenges presented by climate change and global urbanization.
I believe that the learning you have done at Kenyon has prepared you to navigate successfully a volatile, uncertain, complex and ambiguous world. Through your studies here at Kenyon, you have developed the broad cultural context that empowers you to extrapolate and interpolate information in the face of ambiguity or uncertainty; the intellectual flexibility to adopt quickly in the face of volatility; and the analytical skills to untangle the interdependent variables brought on by complexity.
Yet all of this focuses on the "utility" of education. Perhaps more importantly, the true transformative power of Kenyon comes into view when one combines this "utility" with King's concept of "culture" and "values." For problems like the Ebola epidemic, or global migration, or climate change, are human problems, and solutions that are not only effective but also humane will be found by people who are equipped with empathy, with a deep understanding of cultural values, and with the sense of moral character that King advocated. It is not enough to develop a vaccine for Ebola, or even develop a distribution system that can withstand political and social volatility. Rather, addressing this problem takes an understanding of human fear, pain and suffering; a sense of compassion for others; and a determination to reach a goal and help others despite overwhelming odds.
At Kenyon we cultivate the development of these characteristics by studying the humanities, arts, social and natural sciences; by challenging and debating ideas inside and outside of the classroom; by connecting with each other and understanding people different from ourselves. Learning here at Kenyon, as Professor Rhodes put it so eloquently yesterday, occurs face-to-face; the interactions with others, in both formal and informal settings, shape our experiences. The rich content of your education has been complemented by what King called "the accumulated experience of social living" here in Gambier.
All of us here at Kenyon are delighted and proud that you have made our college a stop on your learning journey. As freshly minted Kenyon graduates, I hope you will continue to reflect upon the learning experiences in your four years here on the Hill, and more importantly, I hope that you will continue your lifelong journey of learning; and, in doing so, you will not only practice your powers of concentration but also seek and find meaningful and worthy objectives upon which to concentrate. Please remember that you will always be part of a Kenyon family and that connections forged here can and will continue to thrive.
Good luck, and I look forward to seeing you again up here on the Hill and elsewhere around the world. Thank you all very much.