Educating for a Higher Purpose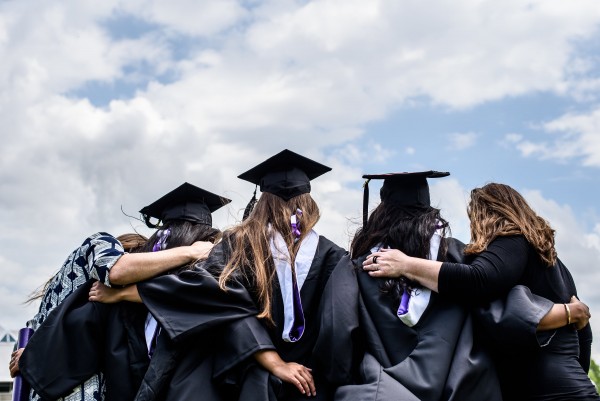 Students and their families all around the country are celebrating graduation this spring, and with good reason — their degrees offer them greater opportunities for employment and career advancement, and degree attainment has been linked to leading a healthier life. More than 400 members of Kenyon's Class of 2019 will graduate this Saturday, and already their liberal arts degrees have helped them open doors to graduate programs at Harvard, Ohio State and Duke universities; jobs at the Cleveland Clinic, Nationwide Insurance and the National Institutes of Health; and service work with programs including KIPP, Teach for America and City Year.
These students are graduating into a society that has shown increased fascination with, and decreased confidence in, higher education. The "Operation Varsity Blues" college admissions scandal and the constant trickle of headlines documenting every campus free-speech flareup have helped feed a narrative that college is only for the elite, and that students, faculty and administrators are woefully out of touch with an ever-changing world. All of this might make one question the purpose and influence of a college education: What is it for?
In 1963, President John F. Kennedy visited Amherst College to help dedicate their library to his friend, the late poet Robert Frost. (As fate would have it, Robert Frost had spoken at the dedication of Chalmers Memorial Library at Kenyon a year prior.) He reflected on his surroundings in a remarkable address on the role of a private college in contemporary society:
What good is a private college or university unless it's serving a great national purpose? … In return for the great opportunity which society gives the graduates of this and related schools, it seems to me incumbent upon this and other schools' graduates to recognize their responsibility to the public interest. Privilege is here, and with privilege goes responsibility. … And unless the graduates of this College ... are willing to put back into our society those talents, the broad sympathy, the understanding, the compassion — unless they're willing to put those qualities back into the service of the Great Republic, then obviously the presuppositions upon which our democracy are based are bound to be fallible.
The problems which this country now faces are staggering, both at home and abroad. We need the service, in the great sense, of every educated man or woman, to find 10 million jobs in the next 2 1/2 years … to govern our relations with over 100 countries, to govern those relations with success so that the balance of power remains strong on the side of freedom, to make it possible for Americans of all different races and creeds to live together in harmony, to make it possible for a world to exist in diversity and freedom. All this requires the best of all of us.
President Kennedy's call to colleges and universities was not to optimize their performance metrics, or to produce graduates with the highest possible salaries, or to position their institutions on the safe and neutral positions on the important matters of the day. Rather, President Kennedy issued a challenge to colleges and their graduates to pursue a higher purpose, to serve the national interest, to use academic and intellectual prowess to advance the causes of democracy, freedom and justice.
We increasingly discuss education as a "ticket" to something greater, with an individual reward — ideally in the form of a heftier postgraduate salary. And it's no wonder we increasingly view college in such transactional terms: The cost of attending college has grown at a rate outpacing that of growth in family wealth, and so students and their families understandably have a strong interest in the return on their investment in their education. Even those of us in higher education discuss college in transactional terms; colleges increasingly frame admission to their institution as a means to a job or career, and as an invitation into a strong network of connections for future personal success. The notion of college as a personal investment, rather than a public good, is further reinforced by government action, including a decline in state funding for public colleges and universities and a renewed focus on metrics that frame postgraduate success in terms of dollars earned.
Lost in these conversations is the social obligation we all have to engage in good citizenship and contribute to our democracy. (Indeed, the very underpinnings of democracy depends on us all to participate.) This responsibility is inherent in the mission of public institutions: They were founded and cultivated to serve the public good, and to extend access to education to a vast amount of students. Private institutions historically have aimed to educate for the public good, but with growing competition among the most selective institutions and rising costs of higher ed, I worry these educational experiences increasingly are viewed as a luxury good for individual gain. How can we build a larger culture where the goal is not an education that transforms just the individual, but also the communities to which they belong throughout their postgraduate life?
We can start by finding meaningful ways to measure the true outcome of a college education, beyond an oversimplified focus on postgraduate financial success. We must identify and act on ways to open access to education to all talented students, no matter their means, and to diversify the populations of our campuses. We should resist positioning our institutions as status symbols. And we should examine our pedagogy to help our graduates find their path back to the ideals Kennedy noted in his Amherst speech: to recognize "the obligations of the advantages which the graduation from a college such as this places upon them: to serve not only their private interest but the public interest as well." Failing to do so would be a loss for all interested in strengthening the fabric of our communities.