Meeting the Challenge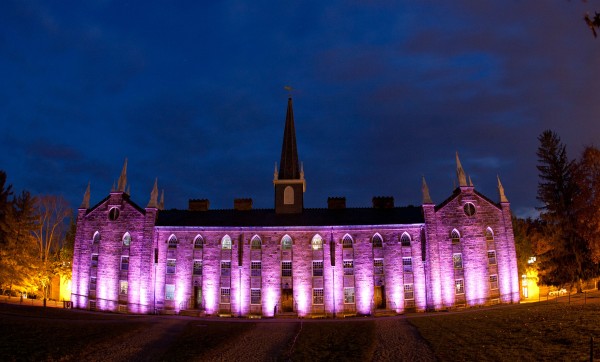 Like most obsessive, long-suffering Cleveland sports fans, I have been closely following the dramatic NBA playoff run of the Cleveland Cavaliers. The drama surrounding the team has been thrilling for much of the past year: the return of LeBron James, mid-season trades, playoff injuries to Kevin Love and Kyrie Irving, and hard-fought playoff victories inspired in part by the scrappy play of Matthew Dellavedova — now displacing Olivia Newton-John as my favorite Australian celebrity. Fitting, it seems, that the marketing of the team this year has been built around the slogan "All In," as the players, the city and the fans have come together to support and drive the team to success.
Along with the NBA playoffs, another annual rite of June is our final push for support of the Kenyon Fund, with our successful academic year behind us and our fiscal year coming to a close. And, to borrow some inspiration from Susan Berger '85, the outgoing chair of the Alumni Council (and fellow obsessive Clevelander), this is the time that we embrace the notion of all in for Kenyon. All of us are needed to keep Kenyon moving forward: faculty and staff, students and alumni, parents and friends, trustees and volunteers. Kenyon advances when we are all in, when we commit our time, energy and resources to support the core mission of excellence in liberal arts education.
Philanthropic decisions are highly personal. They are, for me, guided by my personal connection and commitment to the mission of the institution and my confidence that donations will have a meaningful impact. The Kenyon Fund is critical to Kenyon's success. The dollars raised each year go directly to the support of scholarships and financial aid, faculty and the academic program, and student athletes and their coaches. Put simply, Kenyon Fund gifts make an immediate difference in the lives of students and enhance the teaching-and-learning mission of the College. Because of this, I am a Kenyon Fund donor. I am all in for Kenyon.
This year, we are aiming to increase participation among alumni in the Kenyon Fund effort. The Kenyon College Board of Trustees has issued a challenge, matching each gift with $50. They are all in.
Our newest alumni, the Class of 2015, reached an extraordinary 87 percent participation for their senior class giving. Time remains for you to make your Kenyon Fund gift this fiscal year, which ends on June 30. We are closing in on our goal, and we need your help. We are all in.