Memories and Legacies of Mandela: From Kenyon Avenue to Kenyon College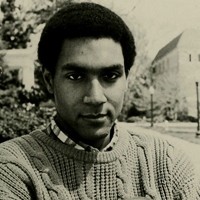 February 11, 1990. I was a senior in college, living in an off-campus house with two housemates and a mildly psychotic cat. Almost all of the streets in the town of Swarthmore are named after colleges; I lived on Kenyon Avenue (one of those strange coincidences that one seems to collect as one gets older), a small, quiet street in a multiracial, working-class neighborhood. I heard the news first via the car horns, then as families began to gather in the street, forming a spontaneous and joyous parade. Nelson Mandela, a hero to many of us, imprisoned for twenty-seven years, had been released from prison.
Like many in my generation, the anti-apartheid movement was an early moment of political consciousness, and Mr. Mandela had come to represent powerful resistance against oppression and injustice. When he walked out of prison with arm and fist raised high, instantly he became a symbol of hope for the future. The outpouring of joy that afternoon on Kenyon Avenue – from old and young, students and community members, black and white – is something I will never forget. At the same time, for all of the hope and optimism I felt that day, I still did not imagine the speed at which South Africa would be transformed, due in no small part to the beautiful grace, tireless work, and unshakable moral authority of Mr. Mandela's leadership.
I've been asked many times why diversity at Kenyon matters to me. The answer, in may ways, lies in the rapid change witnessed in South Africa at the close of the twentieth century, and the powerful example of leadership shown by Mr. Mandela. The notion of a multiracial democracy, where the sharing of political power and economic opportunity among diverse ethnic groups is grounded in a principle of mutual respect and understanding, is still a very young concept around the globe. The story of the transformation of South Africa, and the rise of this concept of multiracial democracy, demonstrates the value and importance of communication across divides, of working to embrace and celebrate cultural difference, of holding steadfast on universal truths while finding common ground in difficult negotiations. These are not values or skills that are intrinsic; they must be developed and practiced, not only through the study of the humanities and arts, but also by living in diverse communities, in which each of us on a regular basis can be challenged to develop and express the spirit of empathy shown in leadership by Mr. Mandela. Indeed, our commitment to providing an educational experience with the power to transform students into citizens leading lives with meaning and impact is deeply intertwined with our commitment to diversity.
In January 2011, I had the opportunity to visit South Africa, touring the incredibly moving historical sites in the Sharpville and Soweto townships, exploring the still-new venues from the just-concluded World Cup, witnessing the amazing wildlife in the national parks, and meeting bright and talented students and faculty at the multiracial campuses of North-West University. I also saw shantytowns along the road that were truly shocking; observed levels of poverty that were stunning; and I witnessed and heard clear examples of racism that reminded us that the work towards racial equality in South Africa is not complete.
Our communities here, whether considering the US in general or looking closely at our home right here on the hill in Gambier, are imperfect – there have been and will be moments of pain to be recognized and healed; policies and practices that should and must be improved; and continuing challenges to make sure that all voices are heard and all individuals respected. Following the example of Mr. Mandela, we must all commit ourselves to meet these challenges, to correct injustice, to listen with hearts and minds open, and to live our lives with respect and caring for others. With this spirit, we will continually improve ourselves, our community, and the larger world.