Porphyrins and High-Impact Experiences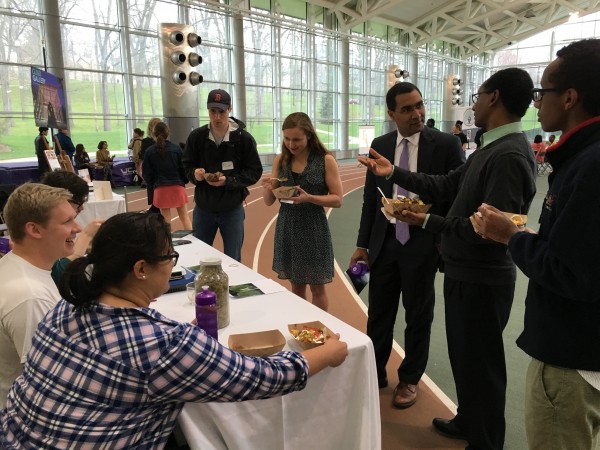 I trace the starting point of my intellectual maturity to my first undergraduate research experience in my junior year at Swarthmore College. I remember the project details vividly (for the curious, the title of my summer project was "Measuring the chemical properties of water-soluble porphyrins encapsulated in liposomes with varying lipid compositions").
Clearer in my memory is my mindset on the first day in lab. Up to that point, I had only done lab experiments in the context of courses, and those experiments had been traditional. Instructions and procedures were defined with recipe precision; experiments involved tests of known principles; and lab reports fit well-defined templates. Directly observing the concepts of the lecture or textbook in a laboratory setting was still awesome.
I learned many things that first summer day, but perhaps no lesson was more important than the recognition of how much more I had to learn. I quickly realized the hard work and careful attention needed when you must prepare and set up a lab from scratch — making the solutions, calibrating the instrumentation, setting the protocol. And because the problems I was taking on were truly new, I had to observe the experiments closely and puzzle over the results. I spent hours discussing data with my labmates and research advisors, and, though I was incredibly nervous, I took a great deal of pride in my first poster presentation at the end of the summer. I not only took intellectual ownership of the work, but the projects soon became an important part of my life.
Porphyrins still hold a special place in my heart. After 20 years I wanted to name one of our dogs "Porphyrin," but my family objected.
I started the project as a student who knew some facts about chemistry. I emerged at the end of the summer as a budding scientist, looking at the world and at problems in a fundamentally different way.
I was reminded of that summer this past Thursday as I toured the Kenyon Athletic Center where so many of our students shared their outstanding work at the inaugural "Kenyon Showcase: A Celebration of High-Impact Practices."
That summer I took advantage of what education researchers now call a "high-impact experience" (HIE): a student project that involves an extended time commitment; faculty mentoring; collaboration with others; and the application of concepts and ideas to complex, real-world scenarios. The term "high impact" was branded by higher education researcher George Kuh and refers to data on achieving college success. Students who complete work in high-impact experiences show higher rates of retention, graduation and post-graduate success. Undergraduate research, internships, off-campus study or international experience, and community-based learning are all examples of HIEs.
The characteristics of the HIE are not new to higher education and have long been part of the educational experience at institutions like Kenyon, where rigorous inquiry into complex ideas and mentoring by faculty are the academic bedrock. The Kenyon Summer Science Scholars program, for example, has been in play for more than 30 years. The Kenyon Review associates have been with us for more than 20 years. And internships have been a part of the landscape for many years. Kenyon science faculty have replaced "cookbook" labs in many courses with challenging, open-ended research projects.
For many years, students participating in these programs have sharpened their skills at both independent and collaborative work, learned to navigate and solve problems outside of the traditional classroom, and explored career options. Many alumni say these types of experiences helped to develop a deeper understanding of their regular academic work, guided decisions about graduate or professional schools and provided key credentials for employment.
But while HIEs are not new to the Kenyon landscape, they have not been accessible to everyone. Because they are important elements of both deepening student learning and preparing students for life after graduation, the Kenyon 2020 Strategic Plan, with its vision and priorities, challenges us to make HIEs a part of the Kenyon experience for all students.
In the 2015 National Survey on Student Engagement, only 54 percent of Kenyon graduates reported having two or more HIEs, and 13.7 percent had none. In the Kenyon 2020 priorities, we set a goal to create opportunities for all of our students to have at least two HIEs before graduation. This means creating more opportunities for undergraduate research and internships; supporting off-campus study and international opportunities, including travel connected to coursework; and supporting faculty mentoring of extended student projects.
Yet the experiences themselves are only part of the story. Further research indicates that the full advantages of off-campus study experiences, internships and community-based learning take hold when students have the opportunities to reflect upon their work under faculty guidance and share their perspectives with others.
Our Thursday showcase was just such an opportunity. The projects (described in a great booklet) highlight the broad range of exceptional student work. Some of these are grounded within traditional courses, including original research projects done in a sophomore organic chemistry course and a senior capstone literature course; independent projects completed by students studying abroad; reflections on volunteer work in emergency services in Knox County; and insights from a first-year political science "argument clinic."
We anticipate that this event will grow into an annual showcase, highlighting examples of the breadth and depth of the work being generated by more and more of our students.