Putting 2020 in Perspective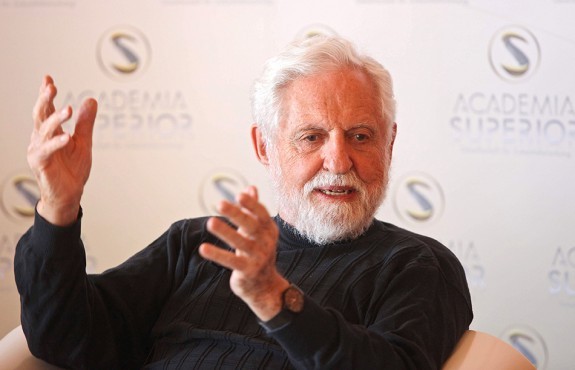 The Kenyon 2020 strategic plan has been in my sights for about 16 months. The first phase of this effort – developing a set of priorities and a sense of direction for Kenyon's next five years – is coming to a close. A draft of the plan is available to the campus community for comment and, during the next few weeks, there will be more opportunities for students, faculty and staff to comment on this work in advance of the April meeting of the Kenyon College Board of Trustees.
Two recent events well beyond the Kenyon campus prompted me to reflect further on this work, its importance, and what lies ahead.
Closing an Institution
Last week, the higher education community was stunned by the news that Sweet Briar College would be closing. An institution with a distinguished history of educating women, Sweet Briar is one of hundreds of small, private liberal arts colleges with core values that echo those at Kenyon: education in the liberal arts tradition within a tight-knit residential community.
Many of us in the Kenyon community have personal connections to the faculty, staff, students, and alumnae of Sweet Briar, and we recognize the pain and sense of loss they feel. Darryl Uy, our interim dean of admissions and financial aid, has extended the transfer application deadline for current Sweet Briar students, and those of us with friends at the institution are lending our moral support.
The decision to close Sweet Briar has prompted some members of the Kenyon community to ask about our own financial sustainability. Are we an institution at risk? No, we are not. Kenyon and Sweet Briar differ on several key indicators of financial viability. Kenyon is in a strong position in terms of not only the number of applications but also yield of students, consistently meeting our enrollment targets, which tells us that demand for a Kenyon education is high. We have had more than four decades of balanced budgets. And our physical plant is in excellent condition.
The work of the next five years, as outlined in the Kenyon 2020 plan, builds on this strong foundation to further secure our future.
Celebrating a Life
This past Saturday, I had the honor of representing Kenyon and speaking at the celebration of the life of Carl Djerassi '43. Organized by his son, Dale, grandson Alexander, and step-daughter, Leah Middlebrook, the event was a moving tribute to a man with broad interests: chemistry, reproductive technology and policy, art collection, poetry, drama, and music, among others. By any measure, Djerassi was a towering figure of the past 50 years, someone who had an enormous impact on the course of scientific discovery, on the arts and literature, and on fundamental social structures.
The story of Djerassi's relationship with Kenyon is illustrative not only of Kenyon's past but also of the course we are charting. Young Carl came to the United States as a teen, a refugee from the war in Europe. Raised in Vienna, schooled in Europe, he and his mother found themselves in New York, separated from other family and friends, without work. Carl, who had never completed high school, talked himself into a junior college before transferring to Tarkio College in Missouri (with scholarship money identified for him by Eleanor Roosevelt). He transferred to Kenyon in order to pursue his interest in chemistry. At Kenyon, he found the challenging science education that he had been seeking, including opportunities to work closely with faculty members. With the support and encouragement of faculty mentors at Kenyon, he eventually went on to pursue a doctorate at the University of Wisconsin.
I had the opportunity to meet Djerassi last year, right before a recurrence of the cancer that would eventually take his life. When I asked him about the most memorable parts of his Kenyon experience, he described the community in which he lived: He formed close bonds with a group of students interested in literature and poetry, eventually living in the "writer's house" on campus. Through these interactions with students and faculty, he further developed an interest in poetry, literature, and art – interests that would not only become lifelong passions but a late-in-life career. He took, as a scientist, a great deal of pride in being able to connect smoothly with English majors on campus, and this experience remained important to him.
The Kenyon 2020 plan outlines our values and priorities as we look to the future. We must maintain Kenyon as an institution accessible to academically talented students from a range of backgrounds, including students who may not typically find their way to central Ohio; focus on the importance of mentorship and experiences outside of the classroom to complement the formal education and smooth the transition of students to success after graduation; and cultivate a strong community of learners.
Djerassi's Kenyon experience offers important illustrations of these values. Just as the Kenyon of the 1940s found a place for a war refugee of modest means, mentored him, provided the learning experiences that allowed him to identify and follow his career ambitions, and opened to him a powerful community that nourished his lifelong development, so must we ensure that the Kenyon of 2020 will provide a similar transformative experience for the students of the future.