The essential need for dissent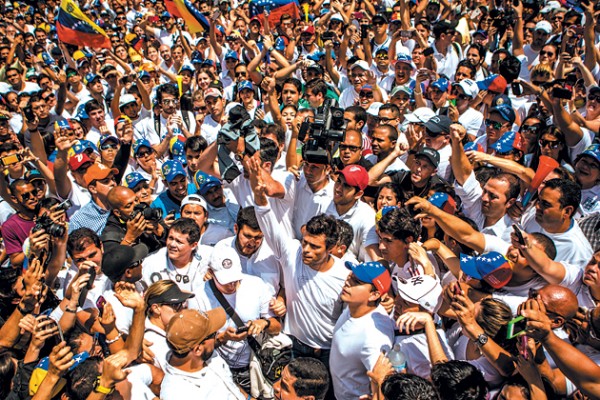 Messages from across the extended Kenyon community have been pouring in since the news on Monday that Leopoldo López '93 H'07, accused of inciting unrest in Venezuela, was arrested. Our thoughts are with Mr. López and his family, and we hope for his safety. Provost Joe Klesner (an expert on Latin American politics) has commented on the political situation in Venezuela, and many articles have been published on events in Venezuela over the course of the past few days. Mr. López has also been profiled in the Kenyon Alumni Bulletin.
Mr. López's Kenyon experience holds many similarities to those of current students: he was an athlete, a member of Adelante, a sociology major who took courses in IPHS. Mr. López engaged the entire political spectrum and enjoyed intense discussions with faculty and students. His Kenyon career is also one of a student activist: a co-founder of the group ASHES and an outspoken opponent of the U.S. invasion of Kuwait. His time at Kenyon was marked by a desire to bring the abstract arguments from the classroom into pragmatic application, bringing challenging topics to the forefront of conversation.
As I follow the news on Mr. López with rapt attention, a few key thoughts about our lives in Gambier come to mind. Foremost, Mr. López has reminded us of the importance of taking a firm stand on one's principles, even in the face of severe consequences. Secondly, this is an important illustration of what political repression looks like. It may be easy to suggest that a campus such as Kenyon's can be subject to the repressive pressures of "political correctness," but we must remember that no one at Kenyon faces imprisonment for expressing a viewpoint, and that even at our most challenging moments, this is a place with a remarkable level of free discourse. Finally, this should also be an opportunity for us to reflect upon how we foster open dialogue and discussion on difficult topics. We should ask ourselves, are we willing to take on challenging and rigorous dialogue on difficult issues?
We often neglect the value of dissent on our campus – the importance of cultivating an atmosphere in which difficult topics are rigorously engaged, where opinions (including those held by people in positions of power) are openly challenged, and where members of the community feel empowered to take strong stands in a press for change. A place such as Kenyon – indeed, any college – should foster and support the spirit of dissent; this is in keeping with our commitment to free exchange and engagement with ideas, as well as with our mission to encourage students to bring ideas from the classroom and library into regular practice.
Difficult dialogue and vigorous dissent are not incompatible with a community built upon respect and civility; and the realization of this requires both individual and collective courage, energy, and work. Mr. López is modeling that for us.