Shaping Kenyon's Future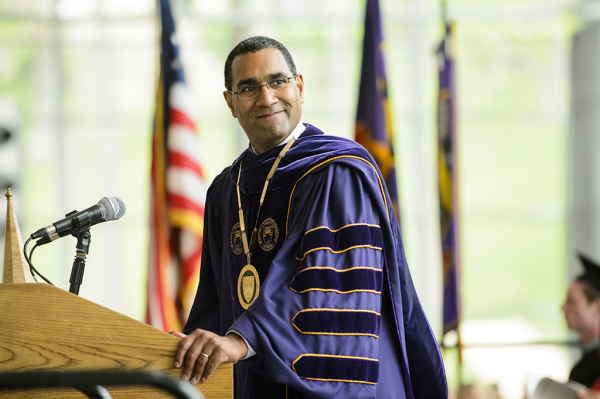 Hundreds of prospective families have driven up the Hill for campus visits this summer, a sure sign that recruitment for the Class of 2022 is in full swing. The most essential work that happens at Kenyon is teaching and learning; that is the very heart of our mission. But beyond that, the most critical operation for the College is the effort to recruit, admit and enroll a class of students.
Kenyon depends on tuition to finance 80 percent of its operations, and because of this the financial future of the College depends on the admissions process. Budget pressures notwithstanding, the weighty question we face each admissions cycle isn't a financial question, but rather a values question: What kind of institution do we want Kenyon to be? With every class we assemble, we lock in the attributes that will shape campus culture for the next four years, and alumni priorities and aspirations for the next 60.
As I have emphasized before, diversity in many forms — socio-economic, racial and ethnic, geographic, religious, and diverse academic interests and perspectives — is essential to Kenyon's long-term success. A college that fails to nurture an environment where varying voices coexist equally will fail in its mission to educate its students and prepare them for success in an increasingly complex world. This is why our highest fundraising priority is expanding our scholarship endowment to ensure that bright prospective students from all backgrounds can join our campus community.
With leadership from former Board chair Barry F. Schwartz '70 H'15, we are launching an effort to raise $20 million to establish the President's Fund for academic excellence and diversity. The goal of this fund is simple, powerful and essential: to give Kenyon the financial capacity to bring promising underrepresented students from low-income backgrounds to Kenyon, simultaneously strengthening our academic excellence and broader socio-economic diversity. Each million dollars in endowed financial aid supports a full scholarship package for one student. As part of an additional fundraising initiative for student financial aid, an anonymous donor has offered up to $2.5 million to encourage and match, one-for-one, gifts of $250,000–$500,000 to new or existing financial need-based scholarship funds.
The initiatives led by these two generous donors move us toward the goals of the Kenyon 2020 strategic plan to attract, retain and graduate an academically excellent and diverse student body. Our academic excellence — the heart of the institution — is strengthened by the increase in capacity to bring students to campus based primarily on their academic talent and their potential to contribute to the intellectual life of the institution, regardless of the wealth of their families.
We have much work to do on this front. This incoming class's demonstrated financial need is more than $7.5 million — which we meet fully, as we do each year, stretching a financial aid budget that was increased by 10 percent this year. Even so, only 10 percent of this year's incoming class qualifies for the federal Pell grant, which typically is awarded to students from the bottom 40 percent of the income distribution in the U.S. According to the recent New York Times College Access Index, peer institutions including Amherst College, Franklin & Marshall College, Grinnell College and Williams College all outpace Kenyon in terms of the percentage of Pell-eligible students they enroll. We expect the President's Fund, when fully funded, will boost the number of students eligible for Pell grants by 10 percent.
While we will continue to push to bring into greater balance the income distribution of our students, I am heartened by how programs like the Kenyon Educational Enrichment Program (KEEP) have helped many low-income students thrive and graduate once they're here. With the introduction of a new science cohort, we have 36 scholars in KEEP, expanding by 50 percent our support of first-generation and other underrepresented students in this signature initiative.
These initiatives and programs, and the generous support of our donors and alumni, are vital to helping Kenyon continue to build strong generations of alumni. As the Class of 2021 prepares to move to the Hill this fall, we are ready to begin the next cycle of this continuous process of shaping Kenyon's future.