Coming Home
There are a few different breaks students go home for..... Reading days (only some people leave), Thanksgiving Break, Winter Break, Spring Break, and Summer Vacation. Getting to and from Kenyon is something you need to think about. I drive, usually carpooling with other students from Connecticut. That drive is 12 hours, and Kenyon students are notorious road trippers so it works out nicely. If you need or want a ride home, you can easily find one. Just so you know, you are going to need a few things. Crosswords, ghost stories, and tunes are some of my personal favorites, but some people are more the iSpy and 99 bottles of some form of liquid on the wall type .... I try to avoid those people. If you are driving across Pennsylvania..... be prepared to be in the state for a while, no but seriously its really long. I'm not kidding. Try to pick traveling compatriots who will not fall asleep on you. It is nice to have someone up and talking, not snoring in the passenger seat (my friend Miguel). Also bring a camera. Usually there are some pretty important moments that you would like to document like below.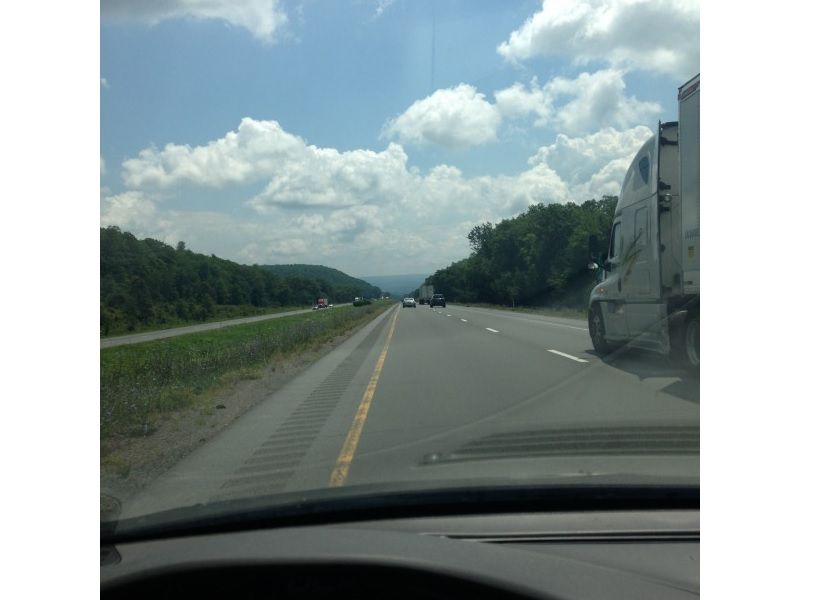 This my friends is the highest point on highway 80 (going across Pennsylvania) east of the Mississippi. Moments like this one, are not easily forgotten. I would like to thank everyone who made this accomplishment possible.
Flying is also very popular. The Columbus airport is fantastic. It takes only about 30 minutes from drop off point to sitting down at your gate. I have flown a few times and it has been a enjoyable experience. Usually there is some sort of shuttle service running to and from campus for those who are flying. If not, Chipotle is an awfully good payment method to anyone with a car. I have encountered individuals who take buses home, but this still requires getting to a big city like Columbus or Cleveland. Contrary to popular belief, not many students fly home from the harry potter look-a-like campus on their broomsticks, but those who do tell me to wear warm clothing on the flight home for winter break. After writing that sentence and re-reading it, I see how poor of a joke that was, but I am going to keep it. Other than your occasional teleporter, that is basically all you need to know for traveling to and from the great place. Below are bullets of my advice stated above and some new ideas for those who like bullet points.
Pick friends who don't fall asleep
You need games.... lots and lots of games
If you are driving forever, you want to minimize stops (pack a lunch or eat the weakest passenger)
Make sure your broom works well before heading home
Print out your boarding pass ahead of time (saves you a whole 30 seconds in Columbus)
Stock up on chipotle gift cards
Become friends with an airplane operator at the air field in Mount Vernon.