A Parent's Guide to Kenyon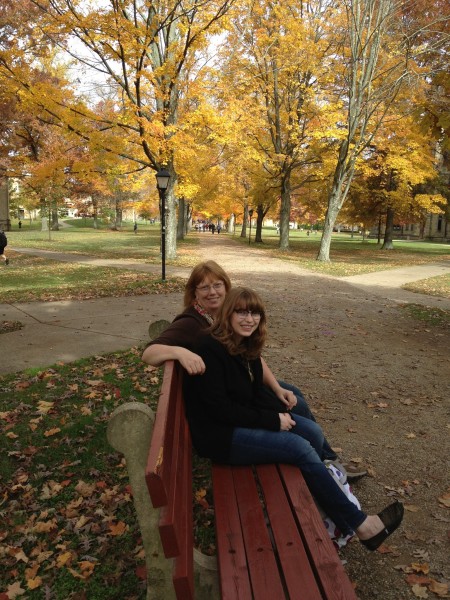 A few weeks ago, it was Family Weekend. Between writing the first chapter of my comps and all of my other stuff, I had one blissful weekend of relaxation with good food, shopping and, best of all: hugs. Seeing my parents is always a treat, and I thought that I would share their insight into Kenyon with all of you!
What was your first impression of Kenyon?
Mom: Wow, someone plopped a charming old New England college campus in the middle of Ohio!
Dad: My first impression of Kenyon was the view down Middle Path from Wiggin Street looking toward Old Kenyon, and all I could think of was, "Wow, they weren't kidding when they named this one of the most beautiful campuses in America."
Why did you feel OK sending your daughter to this rural hill in Ohio?
Mom: I'm from a rural area, so rural doesn't scare me. I knew she would be safe. I felt she might benefit from the fresh air and open spaces offered by Kenyon.
Dad: I knew of the outstanding academic reputation of the school, but it was the students I met when we first visited campus — intelligent, engaging, caring and friendly — who convinced me that Kenyon was so much more than a pretty campus on a rural hill in Ohio.
What is your favorite Kenyon memory?
Mom: Long mom/daughter visit weekends when I would come pick her up in Gambier, and she and I would talk, talk, talk about everything going on in her Kenyon life, then watch movies, eat at Jake's the Place for Steaks (Yuengling on tap, a treat for those of us living in Illinois), shop a lot, talk, talk, talk more, stroll Middle Path, eat at B Dubs (also Yuengling on tap), watch junk TV, and fall asleep talk, talk, talking.
Dad: I am sure my favorite memory is yet to come next spring at Commencement. To date, my favorites have been seeing my daughter walk up Middle Path as part of the pageantry and pomp and circumstance of Convocation and seeing her receive the Robert L. Baker Memorial Prize from President Decatur at last spring's Honors Day ceremony.
Who is your favorite Kenyon alumnus?
Mom: Josh Radnor '96. I'm too old to have a crush on him, so I'd like to make him a sandwich and have him tell me about his day.
Dad: I would probably have to go with Paul Newman '49. Not only an extraordinary artist, but also an exceptionally committed and incredibly generous philanthropist.
Favorite Kenyon building?
Mom: The old side of Peirce.
Dad: Another difficult choice, but I would have to pick Ascension Hall. Its distinctive Victorian Gothic architecture, which evokes an old world castle, adds a dramatic element to the visual landscape of the South Campus, and yet at the same time seems to serve as an academic focal point, filled with youthful exuberance.
If you could take any Kenyon class, which would you take?
Mom: Introductory German. Always wanted to learn some German. Never had the chance.
Dad: It is difficult to choose but I would guess DRAM 213, "History of Western Theater." I enjoy theater, and it is very much unlike anything I took as an accounting major in college.