A Room With a View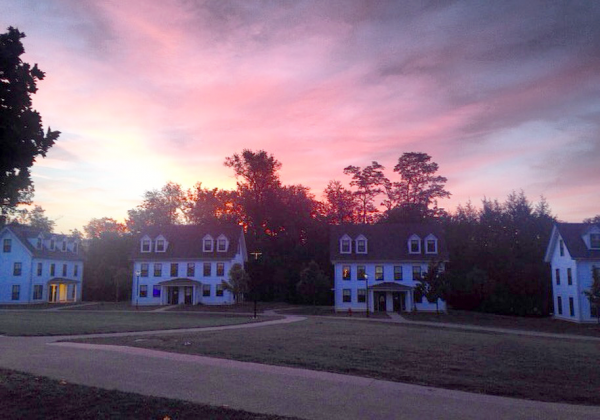 My iPhone has a lot of apps. Many I don't use and never will. But recently I found just the right moment for one of them: the compass.
I rose at about 6:30, involuntarily. It was my first night's sleep of my final year of college, my last first day of school, if you will. I was excited and still getting used to my new surroundings. My friends and I had just moved into the beautiful North Campus Apartments (NCAs), a cluster of black-and-white houses surrounded by rolling green grass and a web of paths connecting one group to another. I live on the third floor in a cathedral-ceiling double room with four windows practically as tall as I am. I peered out the window directly next to my bed and caught sight of a phenomenal sunrise. Shocked to have such a prime view, I pulled out my phone and checked the compass: my bed faces exactly east.
In E.M. Forster's novel "A Room With a View," Lucy Honeychurch travels from England to Italy to get her room with a view. I'm even luckier. My room with a view is only a five-minute walk from where I have class, a seven-minute walk from where I eat, a nine-minute walk from where I dance, and barely a two-minute walk from many of my friends. The NCAs are like that secret pocket inside your jeans, a small community within a small community. It is a dream Kenyon experience to live here, one I couldn't fully appreciate until now. As seniors, having our own little corner of campus lends us a sense of camaraderie and seclusion, a place to savor and reminisce about our four years at Kenyon that went too fast. The luxurious, LEED-certified apartments we live in are allocated to students by a housing lottery. My roommates and I (as well as approximately 224 other students) literally won the lottery. Our prize — a townhouse-style apartment in the north campus community.
I walked home that night with friends, each of us trickling off along the tributaries of Middle Path and finding our way to our cozy common rooms. I climbed into bed exhausted but excited for the year ahead and looked out the window. The stars were shining just as spectacularly as the sunrise the morning before. Tomorrow I'll have to remember to take a picture of the stars. There must be an app for that…