A Tour de Crepes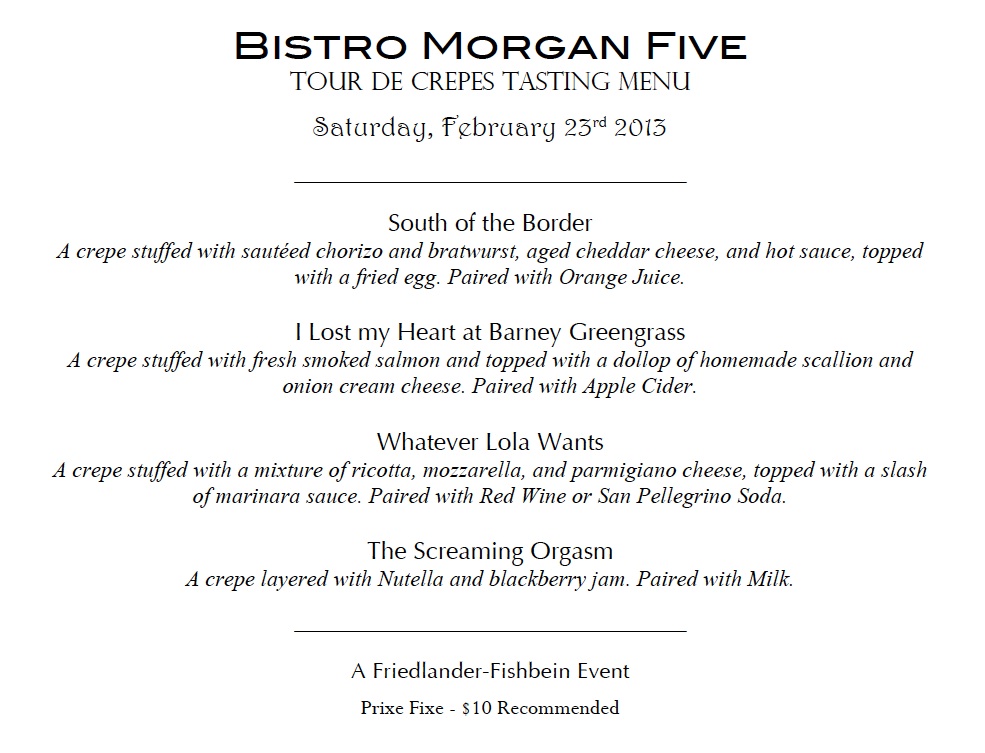 For me, eating is not about the food. For me, eating is about the experience. It is about the events leading up to a meal, the people I eat with, and the events that follow. For me, eating has everything to do with the memories surrounding it.
So when Willy, Jenna, Jackson, Andrew, Ben, Natalie, and I (along with Lizzie who couldn't eat the crepes but provided us with the necessary cooking devices from Cooking Club) sat down to eat a magnificent meal a couple of weeks ago, it was being with those friends that made the night special.
Willy, Jackson, and I have wanted to make a real meal at Kenyon for some time now. We have at various times deep-fried snickers, Twinkies, and even bacon, but we have never created a truly spectacular feast. That was until February 23rd when at five o'clock in the afternoon our cooking began. For the next four hours we ate the best meal I've ever consumed in Knox County; indeed, even after the food was long gone it continued to be one of the best Saturday nights I've experienced in Central Ohio.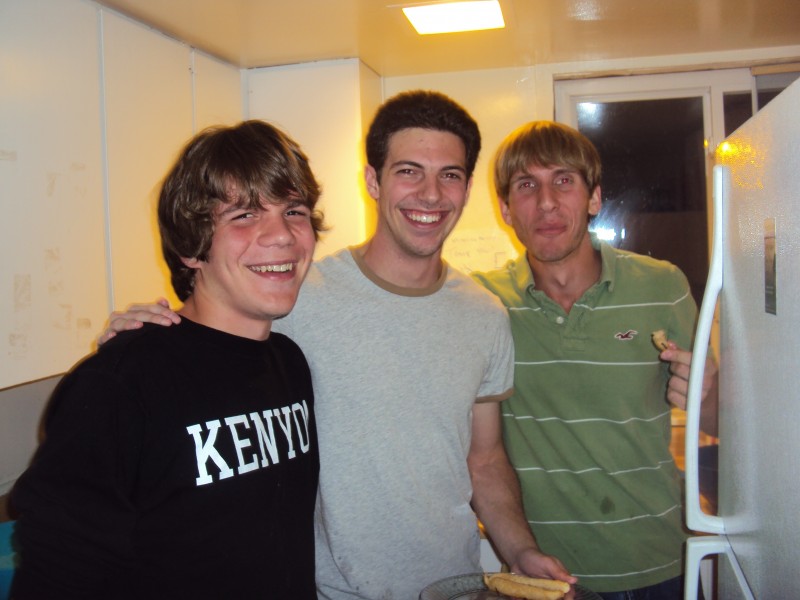 (The three chefs: Jackson, me, and Willy. Here we hosted a deep frying party at the beginning of junior year. We fried Oreos, a banana, snickers, cookie dough, Marshmallow Fluff/Nutella Sandwiches, bacon, and so many other things that I can't remember. What I do remember is smelling strictly of frying oil. Oops.)
And I'm not just talking about the food. You see, the food speaks for itself. I can look at the menu above and yearn for it again. I can want to taste each dish repeatedly. But it is the memories that I will forever hold on to and the people that I will want to be with again. The memories of drinking wine and hanging out with Jenna, watching Willy flip the crepes and Jackson perfect the art of frying an egg, Ben's laughter during telephone pictionary after all the food was gone, and of course the pleasure of serving plates of lovingly crafted food to people I want to be happy.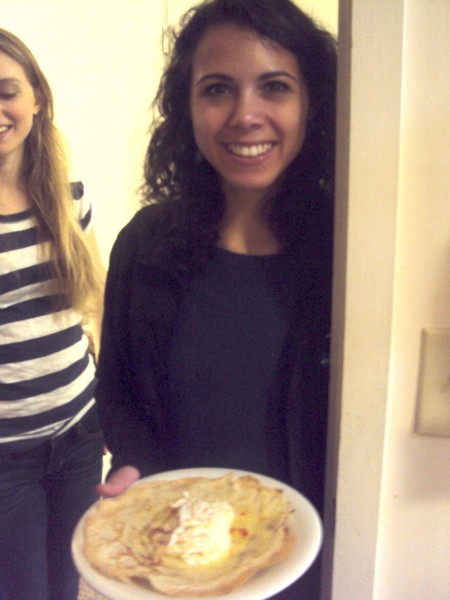 (Jenna, with Lizzie in the background, posing with her modified South of the Border. Jenna is a pescetarian.)
The memories I have are about spending time with friends I enjoy being with.
So with seven weeks left in my collegiate career, both on the track and in the classroom, these are the memories I want to make. It is hard to imagine where these friendships will be in seven weeks time, seven months time, or seven years time. Will we remain close, relishing in the shared experiences of Mario Kart, beer brewing, or Southside? Will we become closer, spurred by the bonds of a Tour de Crepes, a couple bottles of wine, and years shared on The Hill? Or will these bonds forged by fate dissipate until all that is left are memories?
As I wrote in my last post, it is important to live in the present without being lost in the past. But we must remember that the past makes us who we are. To ignore it is to ignore the very fabric of our existence. So as I sit here, on the bed of my childhood in Santa Fe, I am awoken to the fact that no matter how fast my mind whirls with thoughts of the present and future, both near and far, that my memories with all the complexities I place upon them will always be important. But the first step is to make those memories; the first step is to live in the present. So with seven weeks left I yearn to make memories, memories I will cherish for eternity, memories of friends and maybe lovers, meals and track meets, television and Catan.
We must seize the present in order to enter the future, but by doing so we create a past, a past that defines who we are, a past that we must remember. If we banish this past we enter exile, exile from what we have wanted, exile from what we have done, and exile from most importantly who we have become.
Adios,
Jake