Adventures at Sundance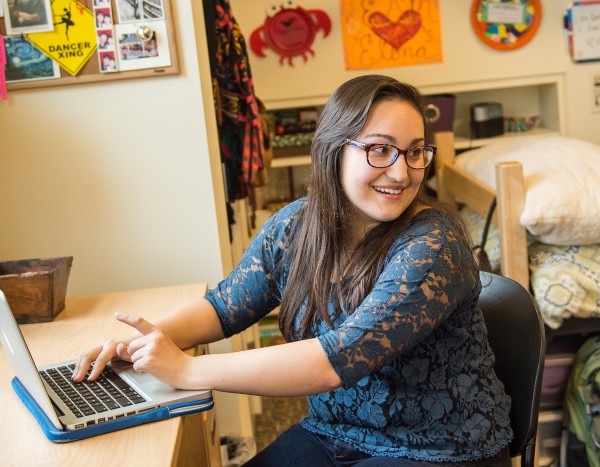 Editor's note: Former Quintessential Kenyon blogger Mia Barnett '15 traveled to the Sundance Film Festival as part of her job with award-winning director Ondi Timoner. She shares her experience here.
Three months after graduating from Kenyon, I landed a pretty awesome job. I'm the production coordinator/assistant to Ondi Timoner, a documentary director known for winning the Grand Jury Prize at the Sundance Film Festival twice (for Dig! and We Live in Public). The day I started interning at her company after I wasn't hired for a full-time position, the person who did get hired ahead of me quit. And I happened to be right there. I started my full-time job the next day.
Fast forward some months, and I've been invited on my first business trip — to Sundance. (A not-so-shabby place to start.) I produced Ondi's talk show, Bring Your Own Doc, for the festival. If you're a doc lover, I highly recommend checking it out. We also covered 14 films, including the Grand Jury Prize winner Sonita.
The five days we were at Sundance were packed. To give you a taste of my experience, here are bits and pieces from the seven-page itinerary that I made for the trip (with commentary).
Thursday, Jan. 21
9 a.m.: Scheduled departure from Ondi's house. Ondi is still packing.
9:15 a.m.: I'm freaking out that we'll be late. Ondi says we'll be fine. It's a typical scene.
9:40 a.m.: We finally depart. I'm not sure if I'll get my heart palpitations under control.
10:20 a.m.: TSA is very confused about the huge light kit we are carrying on board. They must inspect every part of it and ask a lot of questions.
11:05 a.m.: We are exactly on time for our flight. Ondi was right.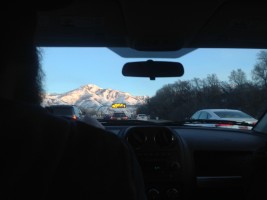 4 p.m.: We arrive in Salt Lake City and hit the road to Park City, Utah, home of the Sundance Film Festival. I can't stop talking about the mountains. They're just like the pictures! But better!
6 p.m.: We stop at the grocery store and buy way too much food. First of many snowball fights begins.
7 p.m.: We arrive at our condo. Way too many stairs… so much equipment to carry…
9 p.m.: To end our day of fun, we head out to an Indiewire party. Juki, Ondi's son, drops a 4-foot icicle from a balcony.
Friday, Jan. 22
5:30 a.m.: Sleeping in a high elevation (and with my coworker Mike snoring in the next room) is impossible. I get up, send a bunch of emails and drink an entire pot of coffee.
8:30 a.m.: I wake up Ondi with a cup of coffee and a plate of turkey bacon, as she requested. It works.
9:45 a.m.: We arrive (sort of) on time to the Caledonian, the hotel on Main Street where we are shooting Bring Your Own Doc.
1:45 p.m.: We wrap shooting and quickly head to the premiere of Mapplethorpe: Look at the Pictures, a fantastic documentary about controversial photographer Robert Mapplethorpe. Q&A with subjects and directors follows.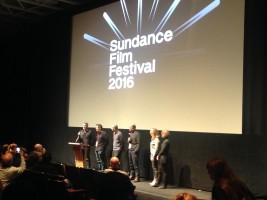 Q&A with Mapplethorpe directors Fenton Bailey and Randy Barbato
5 p.m.: Time for the Mapplethorpe premiere party! Prints were placed all around a gallery to give it that museum-y feel.
9 p.m.: On to the Wiener-Dog premiere party! I dance for three hours and get way too excited over a Danny DeVito sighting. I never actually saw the film Wiener-Dog, but when your boss casts one of the stars (Zosia Mamet) in her next project, you get to tag along to these sorts of things.
Saturday, Jan. 23
7 p.m.: Once again, I wake up way too early. But I need to book a flight this morning. Assistant work never stops!
10:30 a.m.: Everyone else rolls out of bed, and we start watching clips from the films we are covering in today's shoot.
12:30 p.m.: Arrive at the Caledonian. Wait, are we on time?
1 p.m.: We shoot so many interviews. By the end of the six-hour shoot, I've fallen asleep on the ground — just passed out.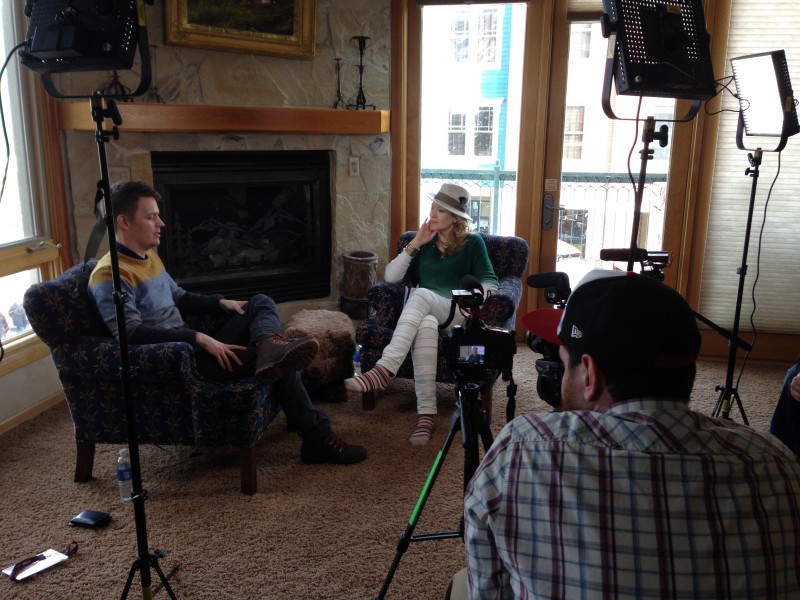 Ondi interviewing Brian Oakes, director of JIM: The James Foley Story
7:30 p.m.: My power nap reenergizes me! It's off to the National Geographic party. This place gives definition to the phrase "free swag." I get a lumberjack-style Columbia sweatshirt and a couple Nat Geo notebooks for walking in the door. Juki, my coworker Barrett and I make an epic slow motion video booth clip. For your viewing pleasure:
Sunday, Jan. 24
10 a.m.: It's our day off, and Barrett and I decide to put our press passes to work and do what Sundance is all about: seeing movies. We go to Sleight, a film about a street magician/drug dealer. We're not feeling like we got enough, so we stay for another: The Settlers, a documentary about the history of the conflict in Israel.
4 p.m.: We're pooped, but there are more parties to attend. We head back to our condo to get ready.
6:30 p.m.: Time for the HBO documentary party! This one had the most epic food. Each room in the restaurant had a different cuisine. As I was making a beeline for the seafood room, Lena Dunham voiced her admiration to Anderson Cooper, and I realized that my life was going to be downhill from here. Ah well, it was still fun. Lucy Walker was at the party sharing her short virtual reality doc about Cuban dance. VR is the new frontier!
9:42 p.m.: LAUREN GREENFIELD SPOTTING. To backtrack a bit, I had previously expressed to Ondi my desire to meet my documentary hero, Lauren Greenfield (director of Queen of Versailles). I had a pretty good feeling that it could happen at Sundance, yet I am caught unprepared as Ondi plucks me from the crowd at this crazy party. I end up gushing my rehearsed speech about how I saw her photo exhibit when I was 9 and that's when I decided I loved documentaries and then saw her at Kenyon and loved her even more. I blubber. She is gracious. Luckily, Ondi is quick to capture this magical moment on camera.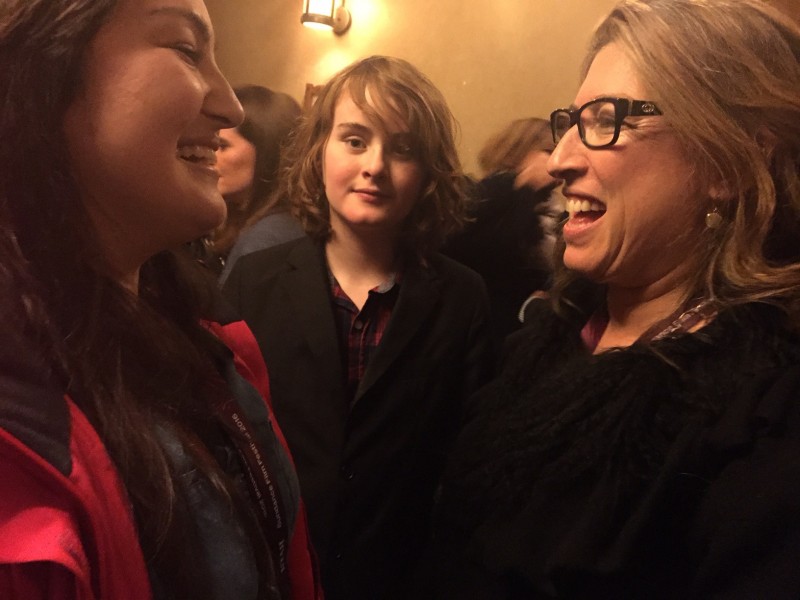 Meeting my doc hero Lauren Greenfield!
10:30 p.m.: Party at the Caledonian. Our friend Adam, who let us use his condo for shooting Bring Your Own Doc, follows that up by inviting us to a party. We stay until 4:30 a.m. — needless to say, we have a good time!
Monday, Jan. 25
9:30 a.m.: Barrett and I decide to spend some time walking around downtown Park City, something we haven't had a chance to do yet. I pick up more free swag (I'm sure I come across as pitifully desperate, but hey, free is free).
1:15 p.m.: Stop into Kickstarter's headquarters. Barrett and I have tossed around a few ideas for a project we'd like to do. We think, oh what the heck, let's see what Kickstarter has to say. We get a great response!
And with that false sense of accomplishment for getting positive feedback on a project we have yet to start, we head off into the distance, on our way back to the airport. Our Sundance adventure is over. Hope to see you soon, Sundance Film Festival. Maybe I'll be back someday!