All the World's a Stage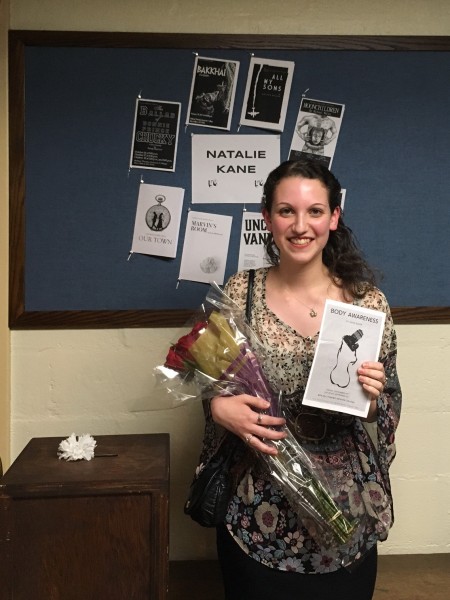 At Kenyon, each academic department has its own customized Senior Exercise that senior majors must complete. As a double major, I will have two sets of these "comprehensive examinations" (usually known to Kenyon students only as "comps") throughout the year. For history, I am currently researching and drafting a paper which will reach about 35 pages by late winter. In drama, our comps technically consist of a six-hour exam on theater history and theory given in April, but each major must also complete a practical "thesis project." This requirement is most commonly fulfilled by acting in or directing a thesis production, although students may also complete projects in other areas, such as theatrical design and playwriting.
Since my focus is in directing, I teamed up to work on one production with three thesis actors. Our group received the earliest slot of the year: five weeks of rehearsal leading up to two public performances during the last weekend of September. It might very quick to complete a thesis so close to the beginning of senior year, but from our perspective it was actually the culmination of a long adventure.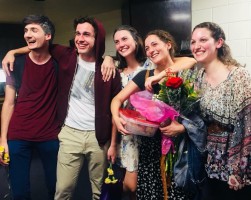 Me and the cast of "Body Awareness" on opening night.
We received the timeline for our thesis proposals roughly a year ago. All the junior drama majors were asked to propose the area of theater they'd like to focus on and the group they'd like to work with by December, and two possible plays they'd like to work on midway through the spring semester.
As spring semester arrived and my newly minted thesis group returned to campus, we turned our attention to play selection. As an unusually large four-person thesis group, our biggest challenge was finding a play that offered equally substantial and challenging roles for all three actors. Plus, of course, something that we could all get excited to explore — and could reasonably hope to produce in the allotted five weeks. Although we had mixed opinions on it at first, we kept coming back to Annie Baker's "Body Awareness," a contemporary dark comedy that promised to be both artistically challenging in rehearsal and thought-provoking in performance. We especially liked that it gave the three thesis actors the chance to share the stage together as a complex family.
I prepared to direct "Body Awareness" much like other productions I have worked on — and yet not. A thesis project is intended to serve as a simulation of the future work you will be doing out in the world in your field, but is at the same time a deeply Kenyon-specific experience. A five-week rehearsal period is not unusual in the professional theater world, and we were ready to hit the ground running when we returned to campus in August, knowing that we'd be auditioning our fourth and final (non-thesis) actor only the day after the semester began. However, the biggest difference between this production and a "normal" one was that as deep as we got into practical staging details, we could never leave behind the dramatic theory as you might in a non-academic process.
Throughout our rehearsals we met with our faculty advisor every week for what I like to refer to as the least independent "independent study" you could imagine. At these meetings we discussed our preparation not only for our performances, but for the oral defense our group of four would give to the department on the following Tuesday. Theater productions always involve a great deal of collaboration, but in this case I shared even more extensive conversations with my actors as we prepared to discuss the dramatic theory behind our production at our defense.
Despite all this, during the whirlwind rehearsal process I tried as much as possible not to think of "Body Awareness" as the great and terrible Thesis, but as just another production. When a small acting moment or logistical tech detail needed work, I focused as much as possible on simply serving this play and finding the best way to tell our story. I learned that there are moments when the extra thesis pressure is a great motivator, and there are moments when it's just another distraction that does not need to be in the room.
An odd aspect of the director's job is that by the time of the performances your role is all but done, and in this process that provided a nice opportunity to sit back and enjoy the experience before it was over. The full gravity of presenting my thesis only hit me as I watched recent alumni and my groups' families arrive to attend the shows. We had two wonderful, engaged audiences, and perhaps the most rewarding part of the whole experience was hearing audience members discuss and debate the play as they left the theater, just as we'd hoped they would.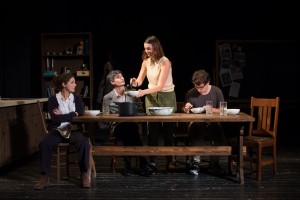 The cast in a scene from "Body Awareness" (photo by Samara Handelsman '21).
And now it's over. I am tremendously proud of this journey that we undertook and the art that we shared. While this is the only undergraduate thesis I'll ever direct, I look forward to finding and creating opportunities to work on many more unique and powerful productions in the future. In the meantime, I can't wait to see the incredible work that my classmates in the drama department and beyond will produce as they complete their own thesis projects throughout the rest of the year.