Becoming Kenyon's Best Party Band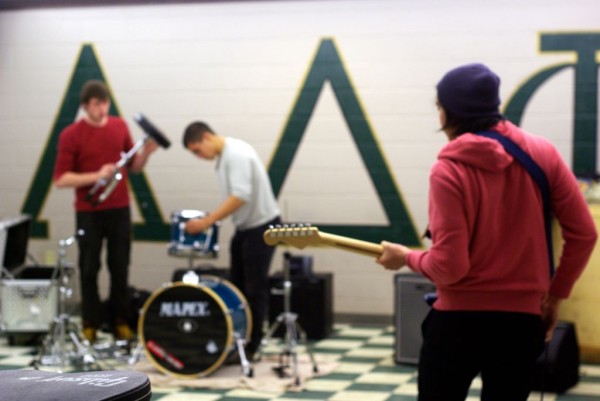 The founders of "A Sassy Nation" arrived on Kenyon campus back in August, 2011 with little idea of the college's music scene. When Javier Leung ('15) responded to a post by Chris Schwarz a class message board about the possibility of starting "a jam band;" neither of them envisioned that one year later, they would be packing Kenyon's dance-floors playing their own boozy originals and jazzy OutKast covers. Maybe not what they intended—but as new members joined and hours accumulated in the practice room—tastes merged and a sound cohered. It's a narrative you might expect of Kenyon's best party band.
(Ted Meyer on Trombone, Trixie (Michael Kegmana) looks on in band practice)
The men of Sassy Nation are diligent and innovative. At practice, before all the band members have arrived, Schwarz is already going over a new transition he's thought up—one that incorporates a shout-out to "Sugar Magnolia," one of his favorite Dead Tunes. He goes over the timing with Leung and Sassy's newest addition, Alex Urist ('15) on drums. Urist joined the band at the start of the year, but with the help of Michael Kegmana ('14, known as Trixie), formed a tight rhythm section. Trixie is a more quiet presence in rehearsal, unless the band gets out of time, in which case he dominates the room until everyone gets it right.
(Javier Leung shreds while Chris Schwarz waits his turn on sax)
Later in rehearsal, Conor Tazewell ('15), one Sassy's many singers—is singing the lyrics to "Sugar Magnolia" off his iPhone. Maybe it's just Sassy's cover of "Sittin' on the Dock of the Bay," but Tazewell kind of reminds me of a hipster Otis Redding. Tazewell and the other vocalist, Jason Cerf ('15) were responsible for Sassy's distinctly soulful sound—their duet on "Hollywood Swingin'" (by Sly and the Gang) is Sassy's favorite opener.
(Michael Colonetta ('15) helps Urist hold down the rhythm section while Trixie takes a solo)
I've seen Sassy three times, first at a benefit for the New Directions Domestic Abuse Shelter back in September; the Senior Soiree in October; and again at the DKE champagne formal last Friday. The band's progression was obvious, and their songs were tighter than ever. Sassy also introduced their first original, written mostly by Schwarz. "Drift" is soulful with funny, college-kid lyrics and (as you might expect in a song by a Sax-player) a phenomenal horn section.
(Sassy accepts some love from the fans)
Sassy strength is in the many talents of his members. Everyone carries on rigorous music schedules outside the band: from jazz ensembles to acapella groups to side projects. There's also many of the great archetypes at play—with Leung as the quiet shredder, Cerf and Tazwell the party-boy front-men, and Ted Meyer ('15) the goofy trombonist. For most of the time, they're engulfed in their own projects and classes. But a couple times a month they throw down (musically) for some of the biggest parties of the year. Chris imagines someone telling their kids some day about hearing his band at a party. "They might not remember the name, but they'd remember that we kicked ass." For the sake of perpetuity I'll put a video up. But you should really see them live.
https://www.youtube.com/watch?v=puINUpxgir4