"Cats and blogging go hand in hand"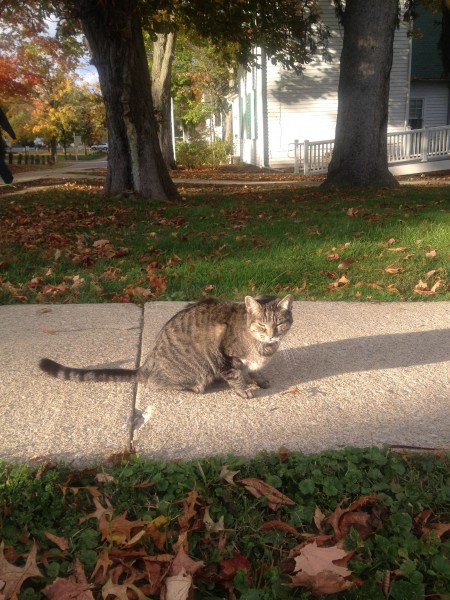 (Post title courtesy of Josh Fitzwater--Kenyon's Social Media Director/The Guy Who Hired Me)
Hi prospective Kenyon students! Welcome to this blog! Before I start introducing you to the many facets of the Lord/Lady experience (and finding a way to work cats in) it seems like a good idea to introduce myself. Soo, who am I?
First of all, my name is Susannah and I'm a senior from Bethesda, Maryland. No I was not named after the song, which is the question I usually get when I introduce myself (and I was almost named Miranda, like reading your Miranda rights, so it could have been worse). I'm an English major with a secondary love of the social sciences, particularly political science and sociology classes. Last semester I went abroad to London, and it was lovely and brilliant and fab and other cliched things British people don't actually say. I'd love to try to work or study abroad again at some point after I graduate (assuming I can afford to--any offers to pay me to blog about macarons from a Parisian pied-à-terre are appreciated!)
In terms of my Kenyon activities, I work as a "consultant" (aka writing tutor) at Kenyon's writing center. I'm also in an awesome community service-focused sorority called Epsilon Delta Mu, or EDM, that was founded at Kenyon, and enjoy blogging and writing for various Kenyon publications. In my free time, I enjoy going on long runs on the Gap trail, having wine and cheese nights, and crossing items off of me and my friends' "senior bucket list" (this week's SBL goal: eat chocolate peanut butter pie at Peggy Sue's—one of central Ohio's premiere pie destinations http://exploreohiowithsandy.com/2010/07/21/peggy-sues-in-new-castle-ohio/)
Also, I love making lists. So in the spirit of my love of list-making, I present 5 random facts about myself:
1) I heart reading (English major, shocking I know). I just discovered Alice Munro and I LOVE her, and I'm writing my senior thesis on "The House of Mirth" so I'm a pretty big Edith Wharton fan as well (and Austen goes without saying). Additionally, I once spent a summer working at a Harry Potter camp.
2) I can sign (as in sign language) all the words to Celine Dion's "My Heart Will Go On"
3) I could easily watch the BBC Colin Firth version of "Pride and Prejudice" once a week (or re-watch any episode of "Downton Abbey," I'm all about smoldering glances/British costume dramas).
4) My spirit animal is your average 85-year-old woman. If I made a list of my favorite things in life, tea, sweaters, baking, and cats would all rank near the top. Also, my "celebrity name" (your first pet's name plus the name of your street) is "Ruthie Johnson," which is basically as elderly as it gets.
5) I'm a life-long politics nerd. One of my first words was "Clinton" and I won "Most Political" in the 8th grade (try not to be too impressed). When Michelle Obama walked into the KAC this year I screamed so loudly that my friend Rebecca almost fell off the bleachers.
Hopefully you now have a somewhat better sense of who I am and will keep checking this blog out. Until next time, prospies!