Dreams from Nogales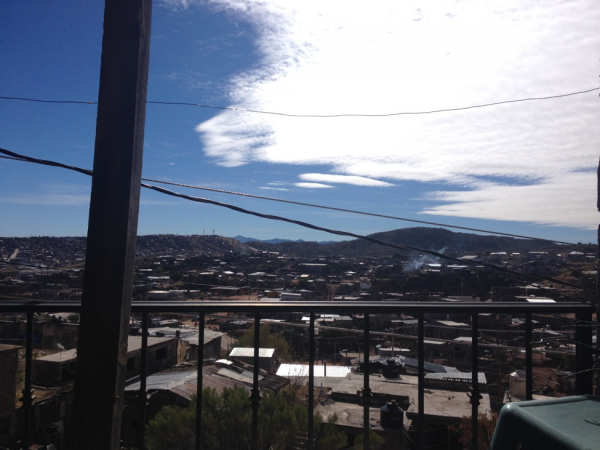 Looking out from Mary Cruz's terrace in the Colonia de Flores Magón, I see thousands of houses embedded peacefully in the rolling hills dotted sparsely with trees. Mary Cruz tells us that these sage-green scrappy trees once blanketed the landscape, but now, after deforestation and a heavy flow of migrants, the hills are bare of greenery but full of houses. Mary Cruz is one of these migrants who came to Nogales, a Mexican city abutting the American border, to find work and education. Nogales is home to las maquiladoras (factories) where workers receive low wages to manufacture goods that are exported to the United States. The Colonia is full of people like Mary Cruz.
As part of Earlham College's Border Studies Program, I spent the weekend in Nogales, home to the Colonia de Flores Magón and other barrios (neighborhoods), to learn about immigration, politics, economics, and the wonderful people who live there. The program takes me many places, but I spend the majority of my time in Tucson, Arizona, with my homestay family. I also intern at Ochoa Elementary School with their community garden, and take classes with Border Studies professors and at Pima Community College. I learn about Mexican-American history, the political movements of this area, the history of immigration, and the current legal environment of Arizona.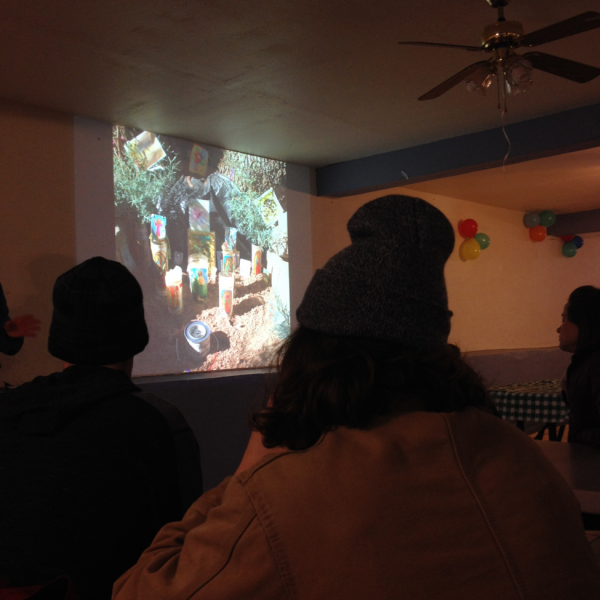 During a presentation about immigration given by one of the volunteers at El Hogar de Esperanza y Paz (the House of Hope and Peace, a community organization in Nogales), we viewed a photo of a shrine to the Virgen de Guadalupe. This was found in the desert region between Mexico and the United States, probably frequented by those crossing between the countries.
When we think about off-campus study, we don't usually think about domestic programs. We want to export our education to France or Chile to practice our language skills and see the beauty of what we don't know. We don't necessarily think of the important issues happening beneath our feet and around the corner.
When I chose to study off-campus in Arizona, the first question I often received was, "But you'll be traveling to Mexico, right?"
It's a valid question. Visiting other countries informs our education and perspectives. We see the differences in culture, and the similarities, too. Visiting Mexico is key to many of the issues on the Border. It is the people of Mexico and other countries, traveling through deserts and scaling walls, who are affected most by border policies and policing. At the same time, it is also the citizens, undocumented people, and community members in the United States who experience the effects of immigration policies. They are also the Border.
During my visit to Nogales, I spoke with individuals at a migrant shelter. They had been recently deported from the United States and were awaiting meals and bus fare to return to their places of origin. Besides the exhaustion that was etched into their faces after days of being transported on buses or planes, they also wore a type of optimism and steadfastness. They had left Mexico for better employment, to be reunited with family, or to escape the circumstances of their communities. Some of them had lived in the States for years and spoke English.
We exchanged stories and laughs and misunderstandings lost in translation. We carried the important work of cultural exchange. By sharing our stories, we shared hope. Hope that laws would change, violence would one day abate, and that families would live in peace. We acknowledged the pains of the past. These exchanges occur in Arizona, too, with my host family, my instructors, and the communities that I live in. I don't doubt that the experiences I have here are important. I believe they are even more so because they affect the nation that I'm a citizen in, the people whom I walk past in the streets, and the ones I call friends.
The terrace at Mary Cruz's house was filled with Border Studies students slurping lentil soup and enjoying arroz con leche (rice and milk pudding). Mary Cruz, in a blue tracksuit and with mischievously bright eyes, turned to us all and told us her life story. She came from southern Mexico to live in Nogales, to allow her daughters to receive an education. She told us how her neighborhood was once ignored by the government, which refused to provide water, electricity, and sanitation. Through knocking on doors, protesting the government, and in one hysterical case, kidnapping a water seller, Mary Cruz and her neighborhood secured some of their human rights. She told us: "La revolución con la educación es mejor." Revolution with education is best.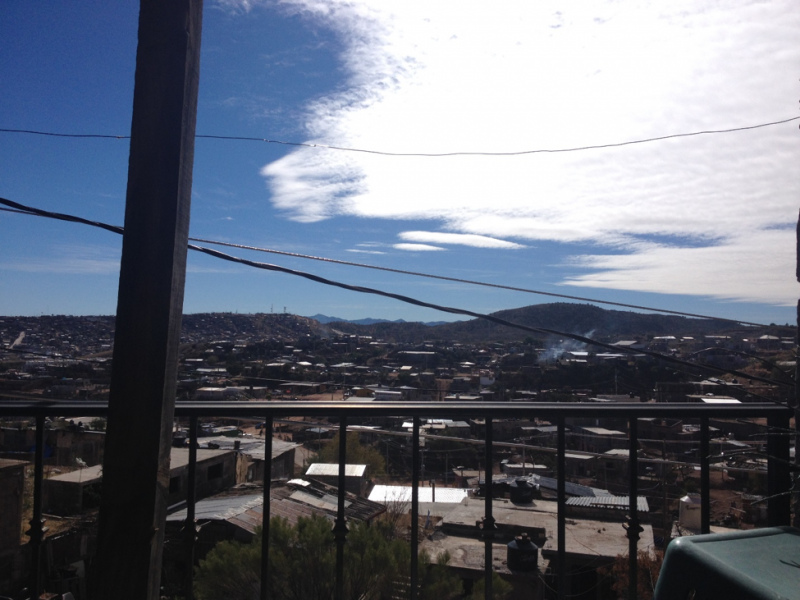 The view from Mary Cruz's terrace.
As I propel myself through the rest of this semester with the dust and sweat of the desert, I will remember her words. I will take my education not only to provide better for myself, but to provide better for those around me. In the end, that's what education is. A way to constellate our desires to respect our needs as humans. And it doesn't matter if it occurs on a study abroad program on the other side of the globe or just around the corner. All that matters is that it occurs.