Family Feud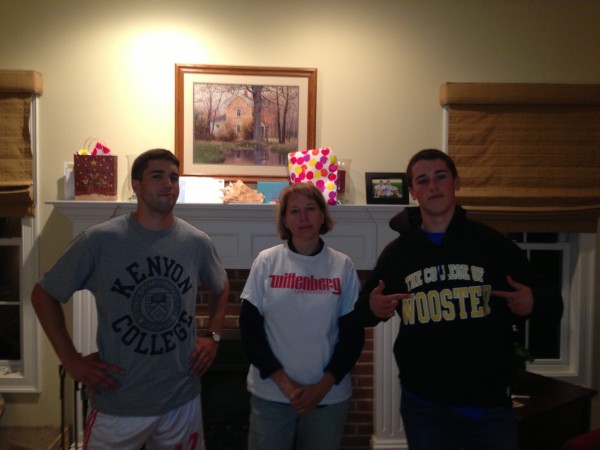 Hello! I'm Andrew. I am going to be a Senior. That means one last season on the soccer team, and one last winter on the hill. I hail from South Glastonbury, Connecticut, just south of Hartford for all of you geography buffs. I like to spend my time with my buddies playing pick up basketball and fishing. I also take piano lessons at Kenyon which I would recommend to anyone. I find myself in a peculiar situation, this is what I am dealing with at home.
It was extremely difficult to grow up in a Tiger dominant household. Both of my beloved parents Harold and Susan graduated from Wittenberg University. Initially being a double legacy of Wittenberg wasn't all that bad. I got some free shirts, we made a trip to the fabled campus and I heard plenty of college stories. However, after becoming a prideful Lord I could see I had been fooled into supporting the Tigers my entire life.
When it became time for Matt, my younger brother to apply to schools, he looked to Ohio given our family history. Matt landed at Wooster. Sure a nice little school, but no Kenyon. That is when I started to receive phone calls every time Wooster Lacrosse won a game, or Wittenberg had received an award. Each time I mentioned a Purple triumph, I was countered by a Red or Gold success. It seems now as I come home for holidays and vacations each dinner conversation ends with in discussion on which NCAC school is better. (KENYON)
So trash is talked, and words are shared, but ultimately something about Ohio has got the Parmelee Family enchanted. Coming home or picking up the phone to talk about these NCAC schools just reiterates my thoughts that Ohio is the place for me. I think it has something to do with the availability of steak and shakes. Whatever it is, I am excited for the summer and to be able to share it with y'all.