Finding the Space to Create: Book Arts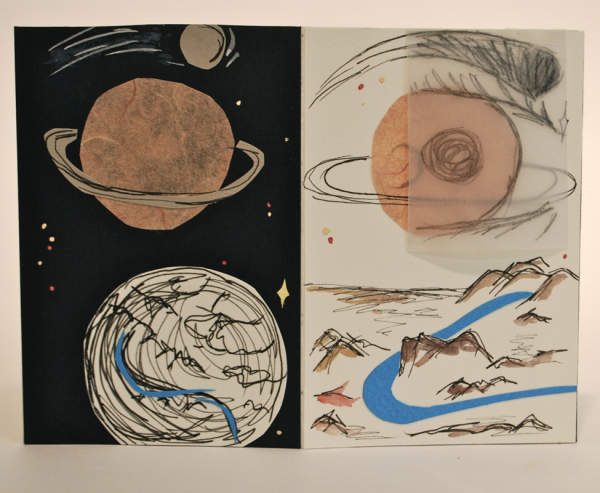 On a recent Tuesday afternoon, I ran into Visiting Assistant Professor of English Andrew Grace, leading us to quickly catch up on our lives since the academic year started. During this most recent summer, I worked with Andy (as I know him) on the Kenyon Review Young Writers program. Andy served as an instructor for the high school students in the program while I was their Resident Advisor. As Andy joked, we hadn't seen each other in approximately four months. Campus is a busy place, after all.
Our conversation, hurriedly conducted during the few minutes before Diane Seuss's poetry reading, wandered to the topic of Book Arts. Taught by Visiting Instructor of Art Ellen Sheffield, the studio art class focuses on techniques of book-binding, content creation, and the genre of artists' books. Andy, nodding thoughtfully, declared: "You know, I really think Ellen is an unsung hero of Kenyon."
It was another Tuesday afternoon earlier this fall that brought me into Horvitz Hall for my first Book Arts class. I wouldn't say I was timid or shy, but it was my first time taking a studio art class. At Kenyon, we are required to take one unit in each academic division, which means that I had to squeeze in some Fine Arts classes before graduation. I decided to take this class, because, to be quite honest, I like nothing more than beautiful art and even more beautiful books.
There were challenges: working in a shared environment, comparing my art and growth with my peers, and the difficulty of trying out an entirely new art form. But there were also rewards: finally figuring out how to sew my pages together correctly, melding content and structure within my books, and finding joy in the relationship with my entire class.
In Book Arts, we blend the disciplines to create. Our first project assigned us to create "Books as Agent of Social Change." Students picked topics such as being Black in America and the Dakota Access Pipeline. Those political matters were transformed into artistic subjects used to spread awareness and hopefully enact change. It was the first time I really was able to witness the creation — by my classmates — of art as a political force.
From there we tackled books with only text, then only image. We explored the idea of book as a rare object, possessing its own unique aura and energy. And then, book as a collection of data, whether that be numbers, images, or objects. Professor Sheffield (who requests we call her Ellen: "Professor Sheffield is my husband!") emphasized that we explore all these aspects of artists' books.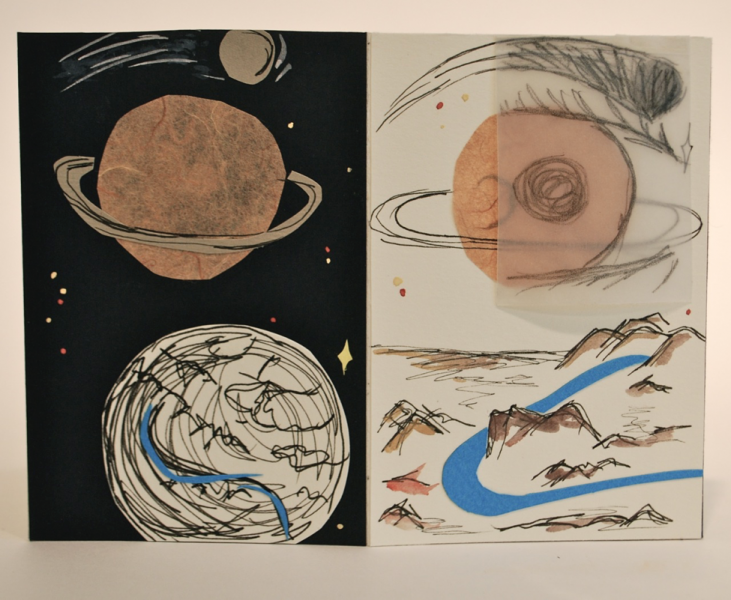 A two-page spread from my image-only book. I explored space and faces with the inspiration of a Langston Hughes line: "I would liken you to a night without stars were it not for your eyes."
The class granted me freedom. Freedom to engage with expression that wasn't limited to words in a research paper or the images in a PowerPoint presentation. Instead, I combined words, images, and artistic techniques to create a new way to tackle the issues and topics important to me.
And that is what strikes me most about Book Arts. Professor Sheffield, our unsung hero as Andy termed her, has introduced us — her students — to a new language, one that integrates the approaches of our divergent educations. Addressing a class of history majors (like myself), English majors, and studio art majors (just to name a few), Ellen always encourages us to bring what we are most passionate about to the studio and to our craft.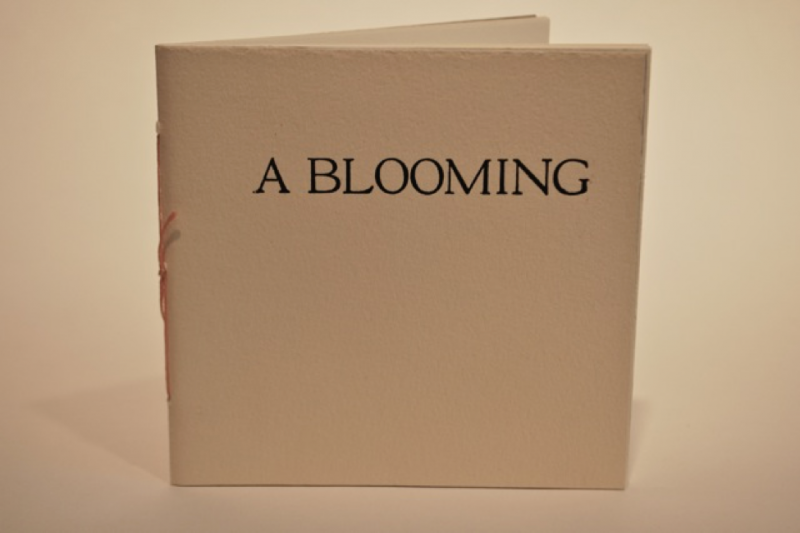 The letterpress title on my text-only book, which featured a poem I wrote about the ending of summer.
Before writing this post, I decided to engage in a bit of investigative journalism by interviewing Ellen. Mostly I just wanted to know how in the world she ended up teaching Book Arts. Ellen has always been involved in the art world and she was first exposed to Book Arts through an exhibition she helped to curate. Then, Ellen fell down the proverbial rabbit hole that is artists' books and beyond.
Ellen and I talked about the evolution of the class ("I've started to focus more on content than structure"), her interest in writers and writing, and her desire to share her knowledge with others ("The fun thing about teaching is just sharing all the ideas"). I asked her what success meant as an artist. Ellen didn't even pause to answer: "It's being able to do your work. It's about having the time and space to create."
That's what we all strive for. And, I think, as a college student, "creation" is often defined in the limited language of institutional success: research papers, final exams, presentations, class readings. But creation is personal. It's interdisciplinary. It's community. It's collaborative. It's singular. It's multiple. It's contradictory.
Being at Kenyon hasn't always prioritized creation for me. But being in Book Arts has reminded me of its importance.
Whatever your work may be, I hope you find the time and space to do it. I hope you create.
Want to see what Book Arts and the senior art majors have to offer? Come to Horvitz Open Studio Night this Friday, Dec. 9 from 5 p.m. to 7 p.m.