From Classroom to Classroom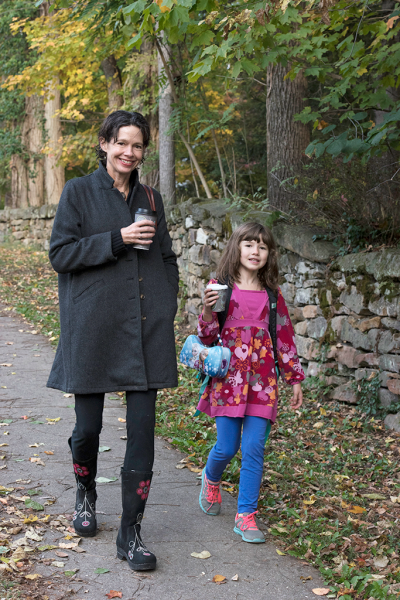 Kenyon is sometimes described as a bubble due to its relative isolation and tight-knit on-campus community. One of my favorite ways to mix up my normal on-campus routine is by volunteering at schools in the local community.
There are a number of different programs of this nature open to Kenyon students, and I am currently active in two of them. My first school volunteering experience was through the Partnership of East Knox and Kenyon (PEKK), run by a board of Kenyon students who coordinate volunteers for the nearby East Knox Local School District, which is currently recovering from a number of years spent in a state of fiscal emergency. East Knox Elementary is a short drive away from campus, so PEKK organizes carpools of volunteers to serve as classroom assistants, tutors for individual students, and anything else that teachers might request. Sharing a carpool with other PEKK volunteers creates a kind of random Kenyon cross-section among grades and majors, frequently allowing me the opportunity to meet some new people with a shared interest.
Last year my schedule remained consistent enough that I was able to volunteer in the same kindergarten class throughout the year at East Knox, which allowed me to see the kids grow and learn a tremendous amount throughout the two semesters I was there. I loved how excited the students always were to read to the volunteers if they finished a task with extra time, and I got to watch their reading level increase dramatically over the course of the year. They're at an age where they are building very visible foundations in a lot of areas at once, and it's an incredibly rewarding process to take part in.
More recently I have also begun volunteering at Wiggin Street Elementary School right here in Gambier, located just a few walkable blocks off of Middle Path. I enjoy working with kids of all ages, so this fall at Wiggin Street I have chosen a slot in a fifth-grade class. I'm excited to spend time in a class that goes into more depth in specific disciplines, and I've signed up to help with a part of their curriculum that has particular significance to me. I'll be volunteering during their social studies lesson, and I look forward to getting this refreshing change of perspective each week as I work on my Senior Exercise for the history major this year!
Spending time at both schools provides a refreshing opportunity to interact with community members of all ages. From week to week and semester to semester I have been asked to help out in a variety of ways in different classrooms, from making copies and doing other prep work for teachers, to leading small group activities when classes split into different sections. As someone who is interested in pursuing careers related to education and theater directing, which I have found to be closely related to teaching, these opportunities provide valuable mentoring experience. I enjoy expanding my perspective beyond the student role that I usually occupy at Kenyon, one of the many ways in which my volunteering sessions provide a welcome change of pace from everyday campus life.
Photo: Professor of Dance Julie Brodie walks her daughter, Evi, to Wiggin Street Elementary.